Hot Cocoa Cookies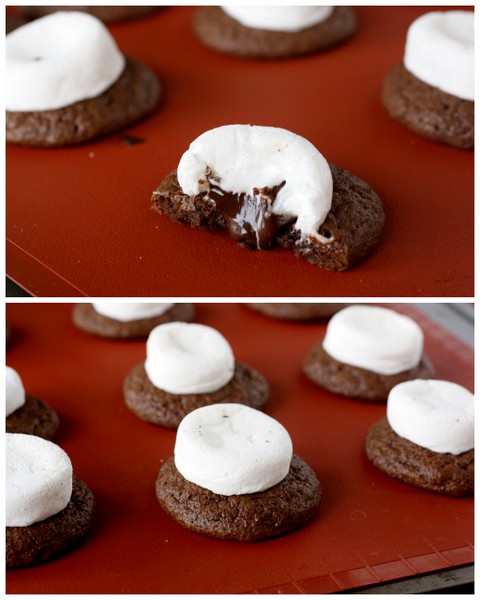 I am so excited to share these hot cocoa cookies with you! You may have seen this picture on Facebook already – they turned out just as I was hoping they would, and I was so happy with them I just had to share a picture right away. 🙂
These cookies are exactly what you'd expect – hot cocoa in cookie form. Complete with warm, runny chocolate and a melting marshmallow on top, they are absolutely delicious!
Of course they're best warm out of the oven when everything is nice and gooey, but we found that just a few seconds in the microwave (or a few minutes in the oven if you're serving a bunch) will bring back that perfect melty texture.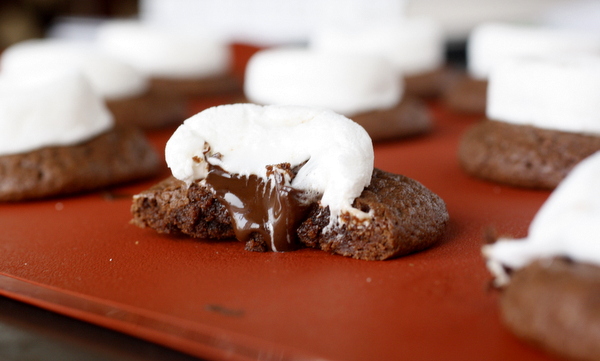 Mike (who, by the way, will not actually drink hot chocolate without lots of mini marshmallows on top) absolutely loved these as well. I can't comment on if anyone else liked them or not because, well, we didn't exactly share. 🙂
*Note: These can successfully be frozen. I sacrificed for you and ate one from the freezer before posting this. A few seconds in the microwave and it was warm and melty. 🙂
P.S. You can see all of my Christmas treat recipes from over the years at this Christmas Cookies tag. Enjoy! And, as always, let me know if you try any and how you liked them.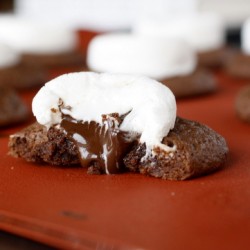 Hot Cocoa Cookies
Ingredients:
1 stick unsalted butter
12 oz. semisweet chocolate, chopped
1 1/2 cups flour
1/4 cup unsweetened cocoa powder
1 1/2 teaspoons baking powder
1/4 teaspoon salt
1 1/4 cups (packed) light brown sugar
3 eggs, at room temperature
1 1/2 teaspoons pure vanilla extract
7.5 oz. semisweet chocolate, cut into 1-inch squares
30 marshmallows
Directions:
In a medium saucepan, melt the butter and chopped chocolate, stirring frequently, over medium heat. Let cool for 15 minutes.
In a medium bowl, whisk together the flour, cocoa powder, baking powder and salt. Set aside. In a large bowl, beat the sugar, eggs and vanilla at low speed until smooth, 2 minutes. Mix in the cooled chocolate mixture just until blended. Add the flour mixture in 2 batches, mixing on low speed until just combined.
Refrigerate the dough for at least 1 hour. (If making the dough a day ahead, let sit at room temperature for 30 minutes before shaping.)
Position a rack in the upper third of the oven; preheat to 325 degrees. Line a large cookie sheet with parchment. Using a tablespoon, scoop the dough and roll between your palms to form 1-inch balls. Arrange about 16 balls 2 inches apart on each cookie sheet, flattening slightly. Bake until the tops of the cookies crack, about 12 minutes.
Meanwhile, snip 8 marshmallows in half crosswise and stick 1 square of chocolate onto each of the cut sides.
Remove the cookie sheets from the oven; gently press a marshmallow half, chocolate side down, into each cookie. Bake until the marshmallows are just softened, about 4 minutes. Transfer the pans to racks to cool for 5 minutes; Using a spatula, transfer the cookies to the racks to cool completely. Repeat the process with the remaining dough, marshmallows and chocolate, baking each batch on a clean sheet of parchment.
from Rachael Ray Magazine, December 2011