Pizza Dip
I tend to love anything with the word "pizza' in the title, and this pizza dip is no exception.  I can't get over how good this is and how easy it is to make.
If you make the recipe as written, you'll end up with a pie plate full of cheesy pizza goodness, but since I was just making this for Mike and me, I ended up cutting the recipe in half. I'm glad I did, because this stuff is addicting!
Layers of melty cheese and sauce and pepperoni give this dip a traditional pizza flavor. You could add in any of your favorite pizza toppings, but I thought it was pretty amazing with just cheese and pepperoni.
We ate this dip with garlic toasts, but I think it would be great with chips, or even with some plain bread for dipping. Serve this pizza dip as an appetizer or snack at your next get together and I'm positive it will be a huge hit!
p.s. If you make this, please use this recipe for homemade pizza sauce – it makes the pizza dip even better!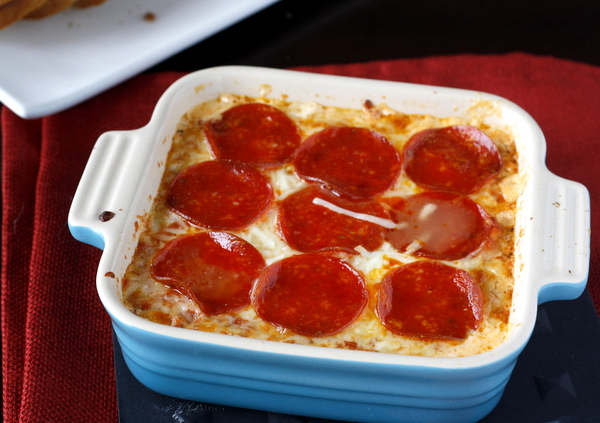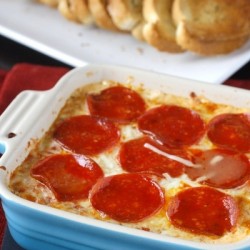 Pizza Dip
Ingredients:
4 ounces cream cheese, at room temperature
1/4 cup sour cream
1/4 cup mayonnaise
1 cup shredded mozzarella cheese, divided
1/2 cup Parmesan cheese, freshly grated, divided
1/2 tsp oregano
1 cup pizza sauce
garlic toasts for dipping (*recipe below)
Directions:
Preheat the oven to 350. Lightly grease a 9-inch pie plate and set aside.
In a medium sized bowl, mix together the cream cheese, sour cream, mayonnaise, 1/2 cup of the mozzarella, 1/4 cup of the Parmesan, and oregano. Spread the mixture in the bottom of the prepared pie plate. Spread the pizza sauce on top and sprinkle with the remaining 1/2 cup mozzarella and 1/4 cup Parmesan. Cover with pepperoni slices.
Bake for 20-25 minutes, or until the sides are bubbling and the cheese is melted and lightly browned on top. Serve with garlic toasts, chips, or bread for dipping.
*To make the garlic toasts, I lightly spread thin slices of french bread with butter, sprinkled garlic salt and oregano on top, and baked them during the last 10 minutes or so of the pizza dip baking time. I highly recommend these.