Blueberry Streusel Bread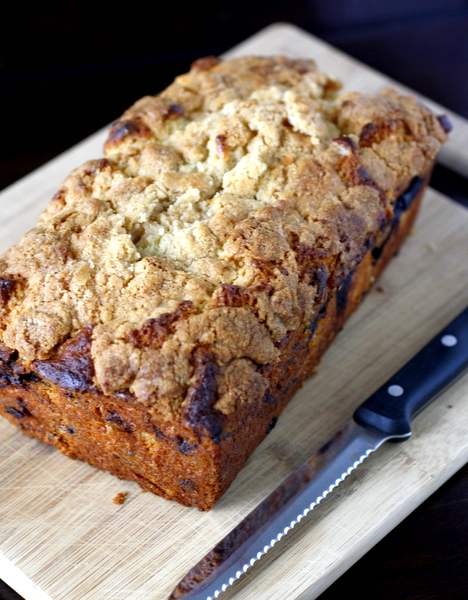 It's officially blueberry season in Michigan, and I am so excited about all the blueberry recipes I get to make this time of year.  Mike absolutely loves blueberries, and so I find myself trying all sorts of different recipes with his favorite fruit. I saw this recipe on Pinterest and was intrigued by the idea of a blueberry bread with streusel topping. I'm so glad I tried it because Mike absolutely loved it and so did I! The bread is soft and moist and the blueberry swirl center is sweet and full of fresh blueberry flavor. The crumbly streusel topping makes the bread a little hard to cut, but it makes up for it by adding an extra layer of deliciousness. 🙂 I hope you try this bread with some fresh picked blueberries – it's hard to resist!
Looking for more blueberry recipes?
Click HERE
🙂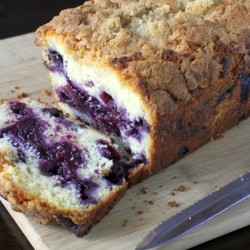 Blueberry Streusel Bread
Ingredients:
Streusel Topping
4 Tbsp granulated sugar
4 Tbsp brown sugar
1/3 cup organic unbleached flour
1/4 cup unsalted butter, softened
Bread
2 cups fresh blueberries
1 1/8 cups plus 1 teaspoon sugar
1 tablespoon water
2 1/2 cups all purpose flour
2 1/2 teaspoons baking powder
1 teaspoon salt
2 large eggs
4 Tbsp unsalted butter, melted & cooled slightly
1/4 cup vegetable oil
1 cup buttermilk
2 teaspoons vanilla extract
Directions:
Preheat oven to 425. Spray bread pan with nonstick spray or grease with shortening.
In a small bowl mix the streusel ingredients together with your fingertips until crumbly. Set aside.
Bring 1 cup blueberries, water, and 1 tsp sugar to simmer in small saucepan over medium heat. Stir frequently and kind of smash the blueberries with your spoon. Cook until the blueberries break down and sauce begins to thicken. Set aside to cool slightly.
In a large bowl whisk together the flour, baking powder, and salt . In a separate bowl, whisk together the remaining sugar and eggs. Slowly mix in butter and oil until combined. Whisk in buttermilk and vanilla. Using a rubber spatula, fold egg mixture and remaining cup blueberries into flour mixture. Mix just until combined.
Take half the batter and place in the bottom of the bread pan. Spoon the cooked berry mixture into center of the batter but don't let it touch the sides. Pour remaining batter over the mixture. Sprinkle streusel mixture over batter. Bake at 425 for 30 minutes, then reduce to 350 and bake 10-20 more minutes, or until top is golden.