Pumpkin Bread

Are you tired of pumpkin yet? I hope not, because I've got a few more recipes to share with you. Since pumpkin recipes are really only appropriate a few months out of the year, I've got to squeeze them all in now, before it's too late.
I told you last week that I almost never see a recipe and immediately make it. Well maybe I'm changing, because this is another recipe I just couldn't resist. I saw this bread on Baking Junkie and I was intrigued by the fact that it was an old family recipe. You normally can't go wrong with those! Plus it looked so good I couldn't stop thinking about it.

I'm so glad I made it, because it is absolutely wonderful. It may be the best pumpkin bread I've ever had (and I already had a favorite chocolate chip pumpkin bread recipe on here!) This one is a classic. Moist, sweet, and full of pumpkin flavor, this bread just begs to be devoured. I won't tell you how quickly we ate this loaf because I would be embarrassed, but I will tell you that next time I'm making it in muffin form to add an element of portion control. Yes, it's that good.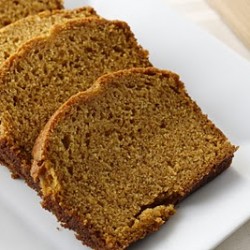 Pumpkin Bread
Ingredients:
1 1/2 cups sugar
1/2 cup vegetable oil
2 eggs, beaten
8oz pumpkin (approximately 1 cup)
1 3/4 cups flour
1 tsp baking soda
1 tsp salt
1/2 tsp baking powder
1/2 tsp nutmeg
1/2 tsp cinnamon
1/4 tsp ground cloves
1/3 cup water
Directions:
Preheat oven to 350 degrees. Beat together sugar and vegetable oil. Add eggs and pumpkin. Combine the remaining dry ingredients in a separate bowl. Add to pumpkin mixture, alternating with water (starting and ending with the dry ingredients). Pour into a well greased loaf pan. Bake for approximately one hour, or until toothpick inserted into center comes out clean.
If you like what you see, you may want to sign up to get free email updates or subscribe via rss. 🙂