Strawberry Cheesecake Mousse Bars
Strawberry Cheesecake Mousse Bars is quite a mouthful, don't you think? But what else do you call a dessert bar that is made up of strawberry cheesecake mousse layered on top of a graham cracker crust with drizzled chocolate on top? Unfortunately, that's the best I could come up with!

No matter what you call it though, this dessert is delicious. You can't go wrong with a graham cracker crust, and the strawberry cheesecake mousse is incredibly light and creamy and has just the right amount of sweetness. I happen to think strawberries and chocolate are the perfect combination, so I added a chocolate drizzle, but you could also dress it up with some white chocolate, or some fresh strawberries on top. No matter which way you serve this dessert (or what you call it), it's sure to be well received.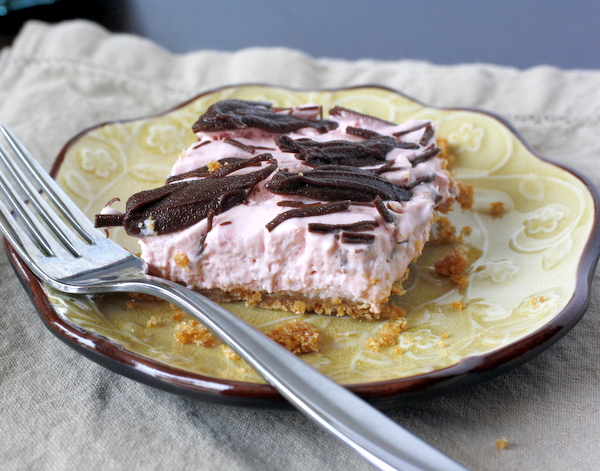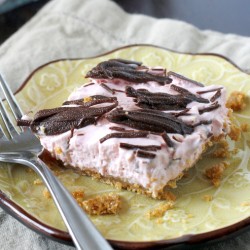 Strawberry Cheesecake Mousse Dessert Bars
Ingredients:
1 cup crushed graham crackers
1/4 cup granulated sugar
1/4 cup butter, melted
1 cup whole strawberries
1/2 cup heavy whipping cream
1/3 cup + 2 tablespoons powdered sugar, divided
1 (8oz) block cream cheese, softened
1/2 teaspoon vanilla extract
Directions:
Preheat the oven to 350. In a medium sized bowl, combine the graham cracker crumbs, melted butter, and sugar, stirring until all of the crumbs are evenly moistened. Press into an even layer in an 8x8 pan. Bake for 15 minutes. Let cool completely.
Using a food processor, process the berries until they form a puree. You should have about 1/2 cup of berry puree. Set aside.
Place the cream cheese into a medium-sized bowl and beat with an electric mixer until smooth. Beat in 1/3 cup of powdered sugar and the vanilla until well combined and creamy. Slowly add the strawberry puree, a little at a time, beating until smooth after each addition. Set aside.
In a medium-sized bowl, combine the heavy cream and 2 Tbsp powdered sugar. Using an electric mixer with the whisk attachment, whip the cream until it thickens and holds stiff peaks. Gently fold the whipped cream into the cheesecake mixture until completely combined. Pour on top of the graham cracker crust, spreading until smooth. Refrigerate until lightly set.
Melt the chocolate chips in a small bowl in the microwave on 50% power, stirring every 20-30 seconds, until smooth. If the chocolate is not runny enough, you may need to add a small amount of shortening to get it to a good drizzling consistency. Drizzle the chocolate on top of the strawberry cheesecake mousse, and refrigerate overnight, or until set.
*Note: If you want to cut nice clean pieces, set the pan in the freezer for 10-15 minutes before cutting.
*I'm excited to be celebrating "Berry Dairy" with the
United Dairy Industry of Michigan
. UDIM paid me to develop this recipe, but, as always, all opinions are my own. Follow UDIM on
Twitter
,
Facebook
and
Pinterest
and find out why
Milk Means More
.