Kale and Brussels Sprouts Salad with Bacon and Parmesan
I am so excited to share this salad with you today! I actually made this months ago, but managed to take absolutely terrible pictures of it. 🙂 I wasn't that upset though, because I was looking for an excuse to make it again! Plus, the timing worked out perfectly to share the recipe on the blog this week – this salad would be absolutely perfect for your Thanksgiving dinner! The base is a mix of kale and brussels sprouts, meaning it's incredibly healthy. But that doesn't mean it doesn't taste great. By the time you add in some slivered almonds, chopped bacon, and Parmesan cheese, you've got a salad that you can't stop eating. I actually don't usually like kale or brussels sprouts, and yet I absolutely loved this salad. Even Mike liked it! (Zeke, of course, took one tiny taste and made a face. But we all expected that.) I made a full batch of this on the weekend, and then ate some every day for lunch last week – yum! I hope you like this as much as we did. 🙂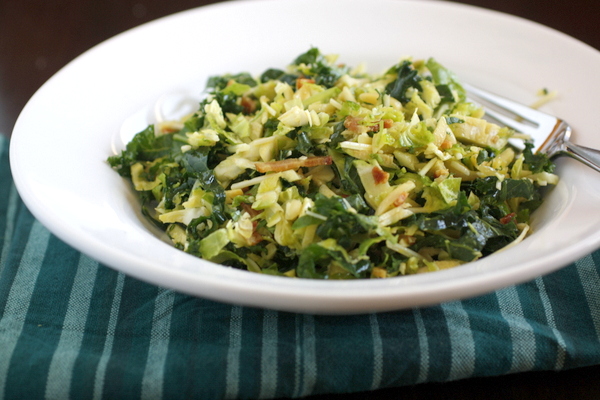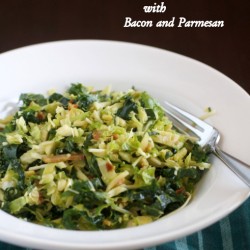 Kale and Brussels Sprouts Salad with Bacon and Parmesan
Ingredients:
Dressing:
2 Tbs fresh lemon juice
1 Tbs dijon mustard
2 tsp finely minced shallot
1 small clove garlic, finely minced
1/8 tsp kosher salt
Pinch black pepper
1/4 c extra virgin olive oil
Salad:
2-3 c thinly sliced kale (approx 1/2 a bunch)
1 lb brussels sprouts, finely shredded using a mandolin or sharp knife
4-5 slices bacon, cooked and chopped
1/2 c slivered almonds, chopped
1/2 c Parmesan cheese, finely grated
Directions:
Combine all dressing ingredients in a small bowl and mix until combined.
Mix sliced kale and shaved brussels sprouts in a large bowl. Add in bacon, almonds, and cheese.
Pour dressing over the top and toss salad until evenly mixed.