Strawberry Ramen Salad
Strawberry season is coming and I've got a great recipe to share with you today!  If you're a fan of the classic ramen salad that is a tradition at potlucks and picnics (we are!), you will love this salad.
It's got a great crunchy mix made up of ramen noodles, sesame seeds, and almonds, all toasted with butter until they are extra crunchy! Toss in some strawberries, Parmesan cheese, and homemade dressing, and you've got an absolutely delicious salad.
I made a smaller version of this salad for us to enjoy, then liked it so much that I made it again two days later to take to a potluck. Everyone there loved it, and it's so easy that it just might be my go-to salad this spring!  It's delicious as a side dish, but next time I might add some grilled chicken on top and, some crusty bread on the side and serve it for dinner. Yum!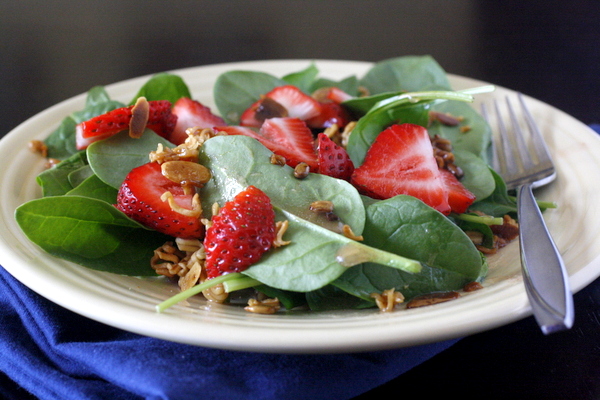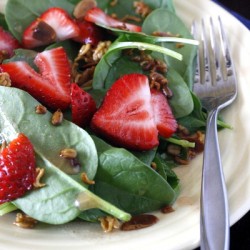 Strawberry Ramen Salad
Ingredients:
1 package ramen noodles, crushed, flavor packet discarded
1/4 cup sliced almonds
1/4 cup sunflower seeds
1/4 cup (1/2 stick) butter, melted
1 head romaine lettuce, washed and dried
One 5-ounce bag baby spinach
1 pint strawberries, hulled and thinly sliced
1 cup grated Parmesan
Dressing:
3/4 cup sugar
1/2 cup red wine vinegar
3/4 cup vegetable oil
1/2 teaspoon paprika
1/2 teaspoons salt
2 cloves garlic, minced
Directions:
For the salad: Preheat the oven to 400 degrees. In a small bowl, mix the ramen noodles, almonds, sunflower seeds and melted butter. Transfer to a baking sheet and toast in the oven, stirring occasionally, until browned, about 8 minutes. Remove from the oven and set aside to cool.
Tear the lettuce and combine with the spinach, strawberries and cheese in a large bowl.
For the dressing: Mix together all dressing ingredients until well combined and store in the refrigerator until ready to serve.
Just before serving, sprinkle the crunchy topping over the salad green and toss the salad with enough dressing to coat the greens. *Note: You may not need all of the dressing.