Pumpkin Spice Chocolate Chip Cookies
How perfect to these cookies look?? Would you ever guess they are not ordinary chocolate chip cookies? Believe it or not, they are pumpkin spice chocolate chip cookies! And they are delicious. 🙂
I am a fan of almost anything pumpkin spice, and when I saw these cookies, I knew I had to try them. They are so soft and chewy, not cakey at all- I really think they have the perfect texture for a chocolate chip cookie!
The pumpkin spice flavor is subtle, not at all over the top. These cookies are such a fun addition to your fall baking, and they were definitely a hit with the friends I shared them with.
There is nothing better than a soft, chewy, delicious chocolate chip cookie – especially one that tastes like pumpkin spice!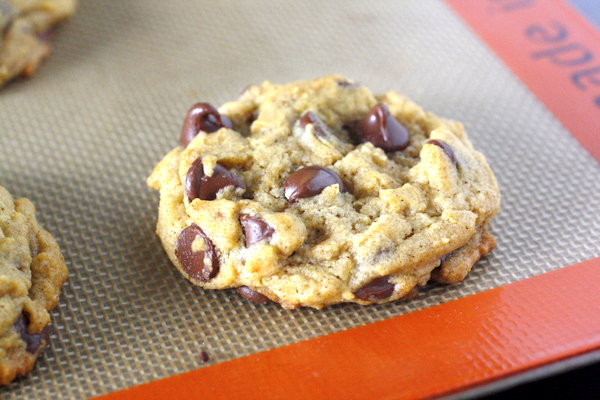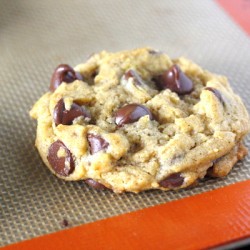 Pumpkin Spice Chocolate Chip Cookies
Ingredients:
10 Tbsp unsalted butter, softened
1/2 cup granulated sugar
1/2 cup light brown sugar
6 Tbsp pumpkin puree
1 1/2 tsp vanilla
2 cups all purpose flour
1/2 tsp salt
1 tsp cinnamon
1/2 tsp nutmeg
1/4 tsp allspice
Pinch cloves
3/4 tsp baking powder
1/2 tsp baking soda
1 1/2 cups semi-sweet chocolate chips
Directions:
In a large bowl or stand mixer, cream together butter, granulated sugar and brown sugar. Beat in pumpkin and vanilla until well mixed. In a medium sized bowl, whisk together the flour, salt, cinnamon, nutmeg, allspice, cloves, baking powder and baking soda. Add to the butter mixture and mix well. Stir in the chocolate chips. Cover and chill until dough is completely chilled and firm, about 2 hours.
Preheat oven to 350°F. Line a baking sheet with parchment paper or a silicone baking mat. Drop rounded Tablespoons of dough 2 inches apart on prepared baking sheet. Press additional chocolate chips into the tops of cookie dough if desired.
Bake for 10-12 minutes, or until bottoms are lightly browned and cookies are just set. Allow cookies to rest on baking sheet for 2 minutes before transferring to a wire rack to cool completely.