Gift Guide for a 2 Year Old Boy
I did my fair share of searching for gift ideas and gift guides for two year old boys last Christmas, and thought maybe some of you were doing the same. If this doesn't apply to you, just ignore it and come back next week for more recipes and treats. 🙂
At this point in my life, if there's one thing I'm an expert on, it's what a two year old boy likes to play with. At least my particular two year old boy. 🙂 Zeke is a crazy constant motion machine, but over the past year (he'll be three in February), we've figured out a few things that will cause him to actually sit and play for longer than 5 minutes. If left to his own devices he'll often be found getting into mischief, so I do my best to give him something that will occupy his attention long enough for me to get a few things done. Maybe, just maybe, these toys will appeal to your boys too.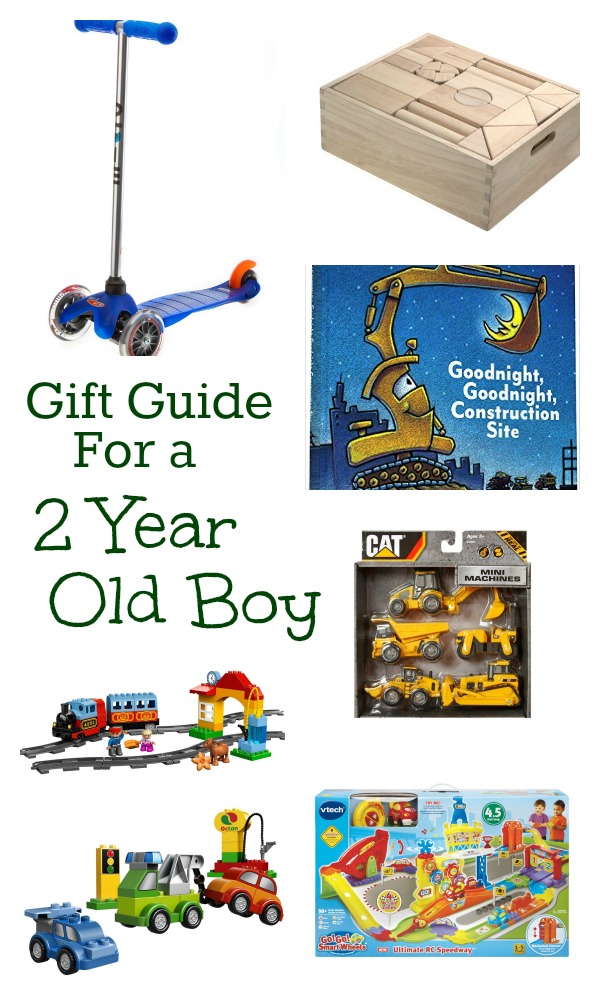 Go Go Smart Wheels – we only have the basic track set, but we are planning to add to it this Christmas. This track is perfect for toddlers – they can build it (and take it apart) themselves and the pieces are very sturdy. There are tons of fun add-on items and you can build elaborate playsets with the extra tracks and cars.
Wooden Blocks – Zeke got this as a gift for his birthday when he turned two and it has continued to be a favorite. At his age he usually needs some adult interaction, but since this is one of my favorite toys of his, I don' t mind. 🙂 We build roads and parking lots and parking garages, and lots of other things. This is a great set because it has plenty of blocks and they all fit inside a little wooden crate. And yes, there is more than one way to fit them in there! 🙂
Construction Vehicles Mini Machines – I got this set for Zeke for his birthday. I made him a construction vehicle cake and put these trucks on top of it. He loves them and they end up all over the house and yard depending on what he is playing that day. They go in the dirt, in the sandbox, in his bin of rice, and even in the playdough.
Creative Cars – I love this lego set! It's a duplo set, so perfect for little hands. It comes with three car bases and plenty of other legos to mix and match so you can create lots of different types of cars. Zeke's favorite is the tow truck because it can actually tow the other cars, and most recently he is into creating his own cars by putting as many legos on top of a car base as can possibly fit. It's fun!
Duplo Train Set – This was Zeke's first duplo set (and the reason we bought the creative cars above).  It was a gift over the summer, and I can't believe he hasn't broken that train yet. He loves for us to set his track up for him and built a tunnel for the train. The train moves on its own with just a push of a button, and it goes on the floor too not just on the track. That train has traveled all over our house with Zeke trailing behind. He loves it.
Rice Bin  – This is so easy to make, and one of Zeke's favorite things to do. I just dumped a ton of rice (bought it at Costco) in a plastic bin, added some scoopers and measuring cups and a few trucks, and let him go to town. He asks for this all the time and will play for  a long time before getting tired of it.
Scooter – We bought him this scooter over the summer after seeing some other toddlers riding it at the park. We LOVE this scooter. It really is the best toddler scooter out there. It is amazingly steady and is perfect for a two year old. The handlebars don't turn, which is why it's so easy to ride, and you'd be surprised at how fast kids learn to steer by leaning. Zeke took off on this thing and hasn't slowed down since.
Goodnight Goodnight Construction Site – This is one of Zeke's favorite books, and it is by far my favorite to read to him. He enjoys all the trucks and I enjoy the lyrical rhymes. It has a ton of wonderful reviews on Amazon, so it is clearly a favorite of many little kids.
Reusable Stickers – We have the transportation/vehicles set of these Melissa and Doug reusable stickers and they have gotten a ton of play. They don't make a mess, they're easy for Zeke to do by himself, and you can use them again and again. Love them!
So there you have it – our favorite toys and gift guide for two year old boys. Feel free to leave any questions or other ideas in the comments! Now – does anyone have any suggestions for me on what to get a 3 year old boy?? 🙂
*Note: There are Amazon affiliate links in this post. If you order through my link, I get a small commission. Of course, feel free to shop around for the best price!