Cream Scones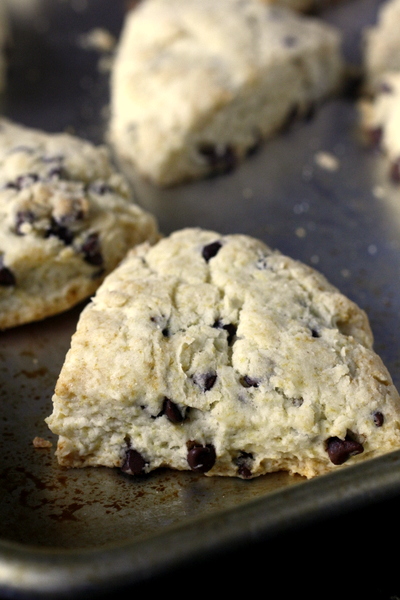 You are going to love these cream scones! Can you believe I used to think I didn't really like scones? I've only had scones once or twice in my life, and while I thought they were OK, I'd never really given serious thought to making them. Plus Mike claims he doesn't like scones at all (too dry), so that didn't give me much motivation to try them.
But for some reason, when I saw this recipe for cream scones I wanted to try them! I figured out that I had all the ingredients and it seemed like the perfect Friday night activity, and the perfect accompaniment to the breakfast for dinner I had planned for that night.
These were amazing. They are so light and flaky and with the perfect amount of chocolate flavor. We ate some warm out of the oven of course, but they tasted great reheated the following day as well. I definitely recommend trying these. Even Mike has become a scone convert! The original recipe called for chopped currants, which naturally I substituted with miniature chocolate chips, but feel free to substitute with what you prefer. 🙂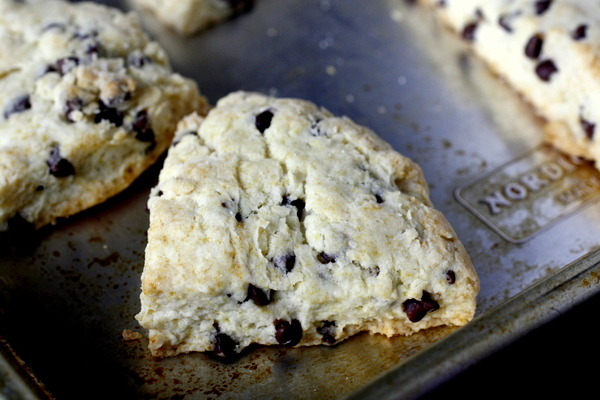 Cream Scones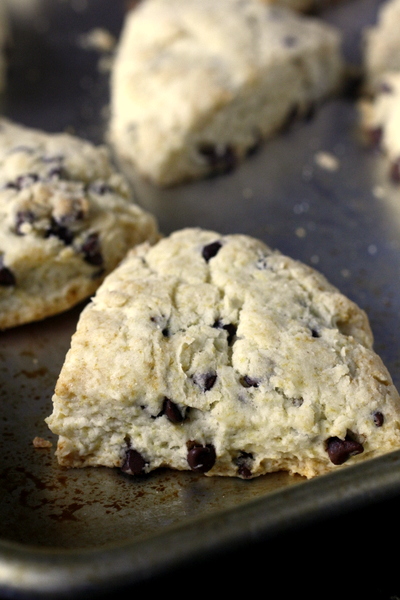 Ingredients
2 cups (10 ounces) unbleached all-purpose flour
1 tablespoon baking powder
3 tablespoons sugar
1/2 teaspoon salt
5 tablespoons chilled, unsalted butter, cut into 1/4-inch cubes
1/2 cup mini chocolate chips
1 cup heavy cream
Instructions
Adjust oven rack to middle position and heat oven to 425 degrees.
Place flour, baking powder, sugar and salt in large bowl or work bowl of food processor fitted with steel blade. Whisk together or pulse six times.
If making by hand, use two knives, a pastry blender or your fingertips and quickly cut in butter until mixture resembles coarse meal, with a few slightly larger butter lumps. Stir in chocolate chips. If using food processor,remove cover and distribute butter evenly over dry ingredients. Cover and pulse 12 times, each pulse lasting 1 second. Add chocolate chips and pulse one more time. Transfer dough to large bowl.
Stir in heavy cream with a rubber spatula or fork until dough begins to form, about 30 seconds.
Transfer dough and all dry, floury bits to countertop and knead dough by hand just until it comes together into a rough, sticky ball, 5 to 10 seconds. Form scones by pressing the dough into an 8-inch cake pan, then turning the dough out onto a lightly floured work surface, cutting the dough into 8 wedges with either a knife or bench scraper. (I cut my scones in half before baking to get 16 smaller scones).
Place rounds or wedges on ungreased baking sheet and bake until scone tops are light brown, 12 to 15 minutes. Cool on wire rack for at least 10 minutes. Serve warm or at room temperature.