Lemon Raspberry Cupcakes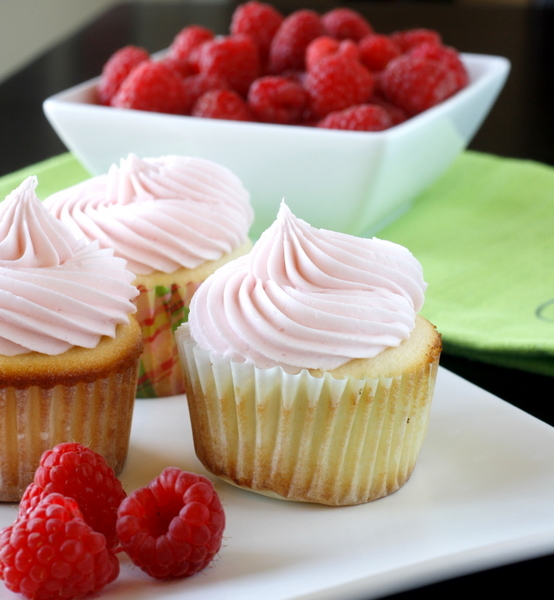 How cute are these cupcakes? They're summery and pretty, and I smile every time I look at them. I made these lemon raspberry cupcakes for a wedding a few weeks ago and from what I heard, they were a big hit! Of course I made a few extra for Mike and I to eat (quality control!), and we absolutely loved them. Mike could not get enough of the raspberry buttercream. I will warn you, if you make these, you will be tempted to dig into the icing with a spoon.
The cupcakes themselves are slightly denser than the typical light and airy cake you might be used to. They have a little more substance to them, which pairs perfectly with the thick and creamy frosting.  The lemon and raspberry flavors are wonderful together, with just the right balance of tart and sweet. Give these a try before summer's over – they make the perfect summer dessert!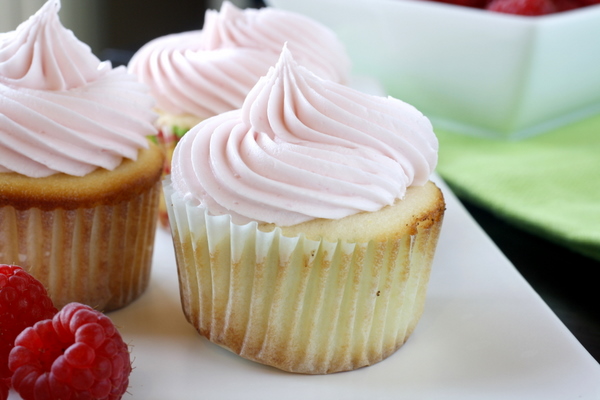 Lemon Raspberry Cupcakes
Ingredients:
Cake:
2 1/4 cups cake flour
1 tablespoon baking powder
1/2 teaspoon salt
1 1/4 cups buttermilk
4 large egg whites
1 1/2 cups sugar
lemon zest from two lemons
1 stick (8 tablespoons) unsalted butter, at room temperature
1 teaspoon pure vanilla extract
1/2 teaspoon pure lemon extract
Raspberry Buttercream:
1/2 cup raspberries (blended into a puree and pushed through a fine mesh sieve to remove seeds)
2 sticks unsalted butter, at room temperature
1/2 cup shortening
pinch of salt
1 tablespoon clear vanilla extract
1/2 teaspoon of raspberry extract
1 1/2 pounds confectioner's sugar
2-4 tablespoons heavy whipping cream
Directions:
For the cake:
Preheat oven to 350 degrees. Prepare cupcake tins by using liners or spray with non-stick cooking spray.
In a medium bowl, sift together the flour, baking powder and salt. In a separate bowl, whisk together the milk and egg whites.
Put the sugar and lemon zest in the bowl of a stand mixer or another large bowl and rub them together with your fingers until the sugar is moist and fragrant. Add the butter and, working with the paddle or whisk attachment, or with a hand mixer, beat at medium speed for a full 3 minutes, until the butter and sugar are very light. Add the extracts and beat until combined. Add one third of the flour mixture, still beating on medium speed, then half of the milk-egg mixture. Repeat, ending by adding the final third of the flour mixture. Beat on medium for two minutes to ensure that the batter is thoroughly mixed and well aerated. Divde the batter evenly among the cupcake tins. Bake for 18-22 minutes, or until the cupcakes are are springy to the touch and a toothpick inserted into the center comes out clean. Cool for 5 minutes in the pan, then continue cooling on wire rack.
For the icing:
Cream the butter and shortening in the bowl of an electric or stand mixer. Add extracts and raspberry puree and combine well. Add the sugar in increments and mix thoroughly after each addition. Add the cream, one tablespoon at a time, mixing on medium-high speed after each addition, until you reach the desired consistency.
*If you don't have raspberry extract, simply add a little bit more raspberry puree until you reach your preferred level of raspberry flavor. If you add more puree, cut back on the milk.