Mini White Chocolate Blueberry Tarts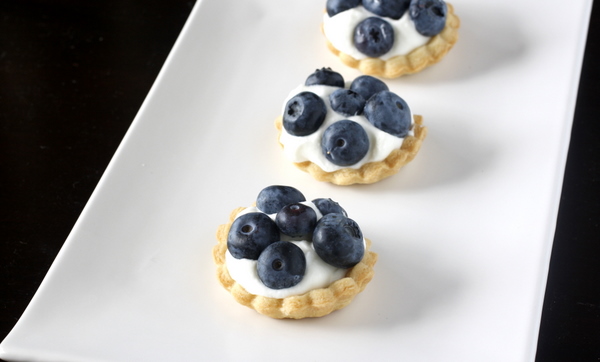 Have I mentioned it's blueberry season in michigan? I can't get enough of the fresh blueberries I've been buying each week. We eat plenty straight out of the refrigerator, but of course I've been experimenting with some fun new recipes! These mini blueberry tarts might be one of the best blueberry desserts I've ever tasted.
These tarts are simple and light and perfect for summer. The highlight is definitely the white chocolate sweetened whipped cream. As soon as I saw that ingredient, I knew I had to try these! The whipped cream is light and fluffy and perfectly sweetened from the white chocolate, which gives it a distinct and wonderful flavor. The tart shells are crunchy and just barely sweetened, the fresh blueberries are juicy and bursting with flavor and the combination creates a mouthwatering summer dessert. These would make perfect potluck desserts because of their size, but you could just as easily make one large blueberry tart for an impressive dessert for company. Next time you have some extra blueberries on your hands, try this dessert – you won't regret it.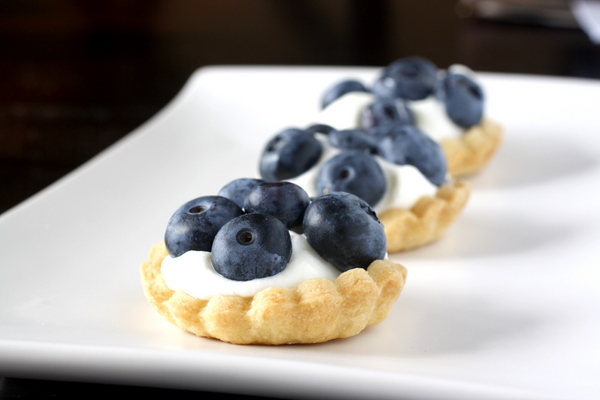 *Note: I used the mini tart pan set from Williams Sonoma (a birthday gift from my sister-in-law!)
Mini White Chocolate Blueberry Tarts
Ingredients:
Tart Pastry
1 large egg yolk
2 Tbsp cream
2 Tbsp sugar
1 1/2 cups all purpose flour
1/2 cup salted butter, chilled, and cut into small pieces
White Chocolate Sweetened Whipped Cream
6 oz. white chocolate, finely chopped
1 1/2 cups cold heavy cream
~3 cups fresh blueberries
Directions:
Tart Pastry: Mix the egg yolk and cream in a small bowl and set aside. In a large bowl mix the sugar and flour. Cut in the butter with a pastry blender or fork until crumbly. Combine the egg mixture with the flour mixture, using a fork, and mix until just combined. Dough will be crumbly. Form the dough into a disk and wrap in plastic wrap. Refrigerate at least 1 hour.
Preheat oven to 350. Roll the dough out 1/8 inch thick and cut out mini tart shapes. Press the cutouts into a mini tart pan and prick the bottoms with a fork. Bake for 12 minutes then rotate the pan 180 degrees. Continue baking until the crust is golden brown, 5-10 more minutes. Transfer the pan to a wire rack and let cool 10 minutes. Remove the tarts from the pan and let cool completely. Repeat with remaining dough.
White Chocolate Whipped Cream: Place the chopped white chocolate in a medium sized bowl and set aside. Heat 1/2 cup of the cream in a small saucepan until it just begins to bubble. Pour the cream over the chocolate and let stand for a few minutes. Stir gently until the chocolate is melted and the mixture is smooth. Let the chocolate/cream mixture cool until it is room temperature. It must be completely cool before continuing. Beat the remaining 1 cup of heavy cream until it holds the softest peaks. With the mixer on high speed, add the white chocolate/cream mixture all at once and continue to beat just until the mixture holds firm peaks.
Spoon the mixture into the prepared tart shells. Top with fresh blueberries. Refrigerate until ready to serve.