Cinnamon Biscuits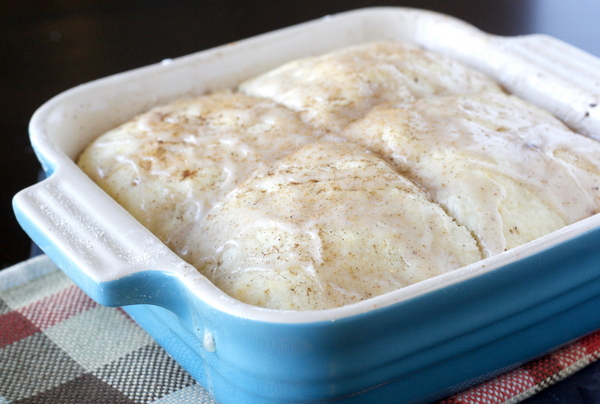 These cinnamon biscuits are like a cross between a gooey cinnamon roll and a comforting breakfast biscuit. I'm not sure why I never tried to combine the two before, but trust me when I say that this idea is a good one. You get the warm, sugary goodness of a cinnamon roll, but in less than half the time. The biscuit is light and fluffy, the cinnamon filling is rich and gooey, and the cinnamon glaze on top makes this breakfast into something so good that it really should be called dessert. Mike absolutely loved these, and he didn't even get to try any straight out of the oven. He ate one cold, and another one reheated and is definitely asking me to make them again. I, of course, ate one as soon as I finished photographing it and promptly declared it a new favorite breakfast treat.
Cinnamon Biscuits
Ingredients:
Cinnamon Filling:
6 Tbsp sugar
2 Tbsp ground cinnamon
4 tsp shortening
4 tsp corn syrup
Biscuits:
2 cups all purpose flour
1 tablespoon dark brown sugar
2 teaspoons baking powder
1/2 teaspoon salt
1 1/2 cups light or heavy cream
Cinnamon Glaze:
1 cup powdered sugar
½ teaspoons Cinnamon
2 teaspoons Corn Syrup
1 teaspoon Vanilla
Heavy Cream (Enough To Let Icing Reach Consistency Of Honey)
Directions:
Heat the oven to 425°F. Grease an 8x8 pan and set aside.
For the cinnamon filling, combine the sugar, cinnamon, shortening and corn syrup with a fork until crumbly and evenly blended. Set aside.
For the cinnamon glaze, Mix the first 4 ingredients (powdered sugar, cinnamon, corn syrup, vanilla). Add heavy cream in small amounts at a time, stirring often, until icing reaches the consistency of honey. Set aside.
For the biscuits: In a large bowl, whisk together the flour, sugar, baking powder, and salt. Pour in 1 1/2 cups cream and mix quickly, just until combined. Dump the dough out on the countertop and pat into a long, thick rectangle.
Slice the rectangle into 16 equally-sized squares. Lay half the squares in the prepared baking pan. Sprinkle the cinnamon mixture over each square. Cover with a second square of biscuit dough and lightly press the edges to seal. Repeat with each biscuit.
Bake for 14 to 16 minutes, or until the biscuits are barely golden on the outside and just cooked through. Remove from the oven and let cool slightly. Drizzle with cinnamon glaze and serve warm.