Crockpot Applesauce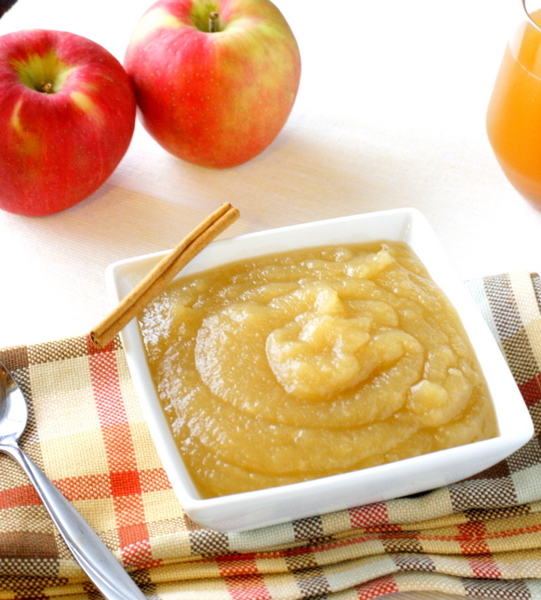 I have an overabundance of apples in my house right now. This past week honeycrisp apples were on sale for $.98/pound, an amazing price, so of course I stocked up. We also already had plans to go apple picking with friends, so I picked up a bag there as well. Then, I came home one day to find a package of apples from Michigan Apples on my doorstep! Let's just say eating an apple a day is a minimum requirement around here at the moment.
It actually works out well since I was already planning to try out a slow cooker applesauce recipe this past weekend. The recipe turned out great, and actually it was so simple to prepare and turned out so well that I've got another batch planned for sometime this week. (I did invest in one of those peeler, corer, slicers over the weekend, which made a huge difference in the simplicity factor.)
There's not much of a recipe to applesauce, and it's easy to adjust to your preferences, but I'll include the recipe I followed. It cooked perfectly in the crockpot in about 3 1/2 hours before I pureed it with my immersion blender (we aren't chunky applesauce people).
It tasted great and only took about 15-20 minutes of hands on time to prepare.  I think it's safe to say that our freezer will be full of homemade applesauce by the end of apple season. 🙂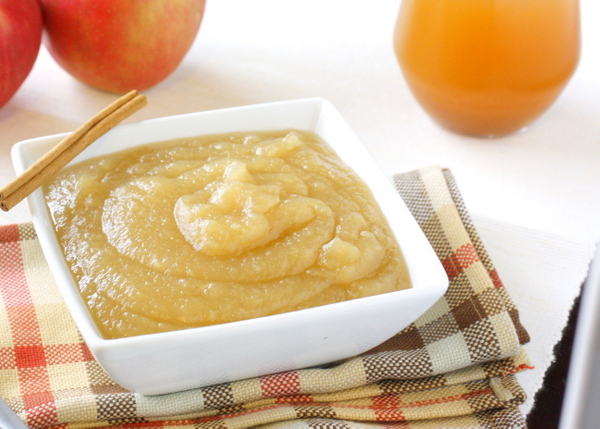 Crockpot Applesauce
Yield: 4 cups
Cook Time: 4 hours
Ingredients:
3 pounds apples (6-9), peeled, cored, and cut into 1 1/2 inch chunks
1 cup apple juice or apple cider, plus extra as needed
2 Tbsp sugar, plus extra as needed
pinch salt
1/4 tsp ground cinnamon (or 2 cinnamon sticks) *optional
Directions:
Combine all ingredients in slow cooker. Cover and cook until apples are very soft and beginning to disintegrate, about 4 hours on low. Remove cinnamon sticks if using. Mash apples thoroughly with potato masher (or blend with immersion blender). Season with additional sugar/cinnamon to taste and adjust consistency with additiona hot apple juice or cider as needed.
*Recommended apples: Jonagold, Pink Lady, Jonathan, Golden Delicious, Empire, Mcintosh, Rome
from Slow Cooker Revolution