Mint Truffles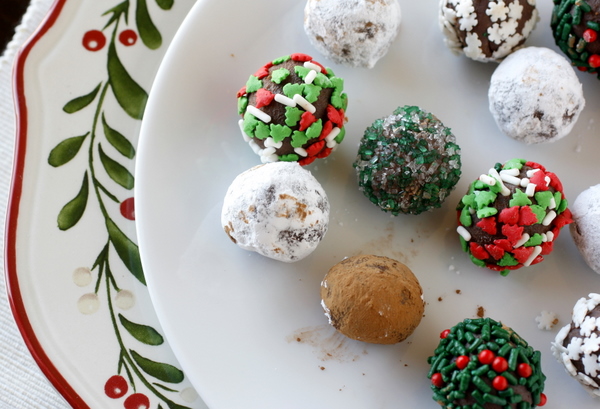 Are you guys tired of seeing recipe for truffles yet? Trust me when I tell you that these are too easy and too good not to include in the 12 Days of Christmas Treats! I'm serious when I say they're easy – there are only 3 ingredients (not including the sprinkles, etc for coating the outside)!
The end result is creamy, fudgy, minty and all around delicious. As you can see I was having a hard time being consistent and I used all kinds of things to coat the truffles. The adult taste testers seemed to favor the powdered sugar coated ones, and the kids liked the ones with sprinkles (of course). I liked them all!
If you need an easy Christmas treat as the days get busier, give these a try – I'm sure they'll be a hit!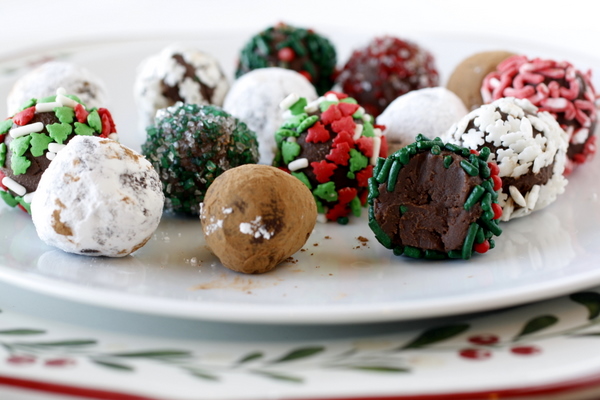 P.S. You can see all of my Christmas treat recipes from over the years at this Christmas Cookies tag. Enjoy! And, as always, let me know if you try any and how you liked them.
Mint Truffles
Ingredients:
1 package (10 oz) mint chocolate chips (I used the andes mint chips)
1/3 cup whipping cream
1/4 cup butter or margarine
Chocolate Sprinkles for coating*
Directions:
Line baking sheet with waxed paper and set aside.
Melt chips with whipping cream and butter in a medium saucepan over low heat, stirring occasionally. Pour into a bowl and refrigerate until mixture is fudgy, but soft - about 2 hours.
Shape about 1 Tbsp of mixture into a 1 1/4 inch ball. Roll in chocolate sprinkles to coat and set on waxed paper.
Repeat with remaining mixture. Store in the refrigerator or freeze for longer storage.
*Note: As you see in my pictures, the truffles could also be coated with powdered sugar, cocoa powder, chopped nuts, sprinkles, or cookie crumbs.