Chewy Peanut Butter Brownies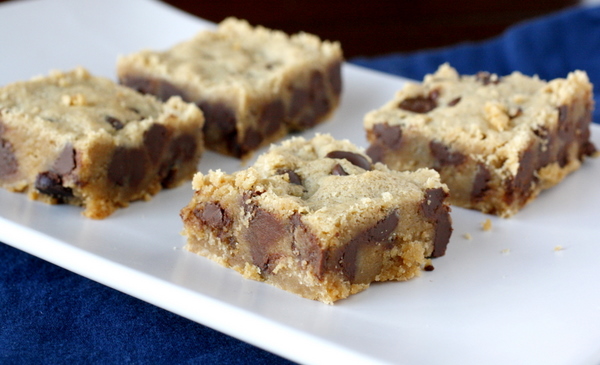 I'm pretty sure I've become addicted to these chewy peanut butter brownies. I made them 3 times in a one week time period! To be completely honest though, they weren't all for us. 🙂 I made one batch for Mike's work, only to discover after I'd put them in the oven that I'd forgotten the baking powder! I quickly mixed up another batch (they are so simple to throw together!) and put them in the oven next to the baking powder-less batch. It turns out that both versions turned out great, so we had double the brownies on hand. Yum! Then, we liked them so much and they were so simple that I ended up baking them again over the weekend to take to a family in our church.
If you need a quick and easy dessert, this one is for you. They take about 5 minutes to mix up, use ingredients that you almost always have on hand, and they taste incredible. These peanut butter brownies are soft and gooey, full of peanut butter flavor and are filled with melty chocolate chips. I can't get enough of them! Mike is not a huge fan of peanut butter desserts (crazy!), but even he said these were good. So what are you waiting for? Give these chewy peanut butter brownies a try – this is a recipe you want to have on hand! 🙂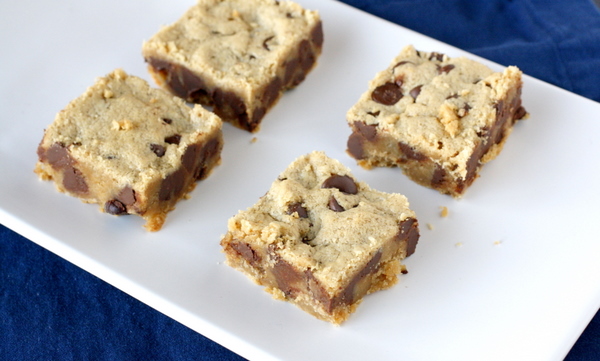 Chewy Peanut Butter Brownies
Ingredients:
1/2 cup peanut butter
1/3 cup butter, softened
2/3 cup granulated sugar
1/2 cup packed brown sugar
1 tsp vanilla
1 egg
1 cup all purpose flour
1 tsp baking powder
1/4 tsp salt
1 1/2 cups semi-sweet chocolate chips
Directions:
Preheat the oven to 350. Grease a 9x9 pan and set aside.
In a medium bowl, cream together the peanut butter and butter. Add the sugars and vanilla and beat until creamy. Beat in the egg and beat until light and fluffy. Add the flour, baking powder and salt and beat until just combined. Stir in the chips.
Spread the batter in the prepared pan and bake at 350 for 25-30 minutes, or until golden brown and a toothpick inserted in the center comes out with moist crumbs. Allow to cool completely before cutting into squares.
from the Penzey's Spice Catalog