Cheddar, Bacon and Scallion Scones
I figured it's about time for something unhealthy. I've been posting way too many recipes for salads and vegetables. Don't worry though, these cheddar, bacon and scallion scones are anything but healthy. They sure do taste good though! They are light and fluffy and chock full of delicious flavors. There's enough cheese and bacon to be noticeable in every bite, which is a wonderful thing. These would be great alongside some eggs for a hearty breakfast, but I think they'd be just as good served with a salad for lunch or dinner. Plus if you eat a salad, you don't feel as bad eating a bacon filled scone. 🙂 Enjoy!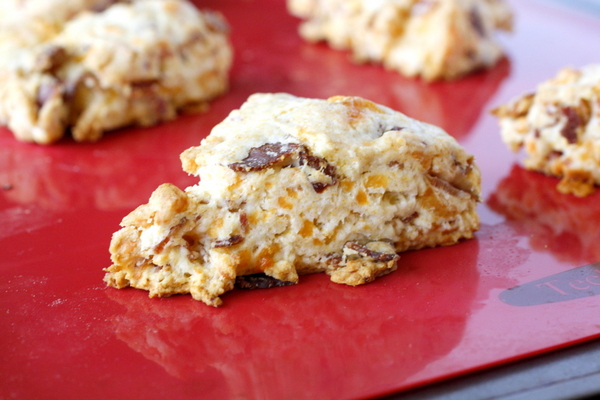 Cheddar, Bacon and Scallion Scones
Yield: Makes 8 large scones
Ingredients:
2 cups (8 1/2 oz) all purpose flour
1/2 tsp salt
1 Tbsp baking powder
2 tsp sugar
4 Tbsp cold unsalted butter, cut into small cubes
1 cup very coarsely grated or diced cheddar cheese
1/2 cup snipped fresh chives, or finely diced scallion greens
1/2 pound bacon, cooked, cooled and crumbled (about 1 cup)
3/4 cup heavy cream
Directions:
Preheat oven to 425. Lightly grease a baking sheet or line with parchment.
Whisk together the flour, salt, baking powder, and sugar. Work the butter into the flour until the mixture is crumbly. Mix in the cheese, chives and bacon. Add the cream, stirring to combine. If the dough is too crumbly and won't hold together, add a little extra cream until the dough comes together. Transfer the shaggy dough to a well floured work surface.
Pat the dough into a smooth 7" disk about 3/4" thick. Transfer the disk to the prepared baking sheet. Cut the disk into 8 wedges, spreading the wedges apart a bit on the pan. Brush the scones with a bit of extra cream to help the crust brown. Bake for 22-24 minutes, or until golden brown. Serve warm or at room temperature.
*Note: I cut this recipe in half, which is why my scones are on the small side.