Lemon Crumble Bars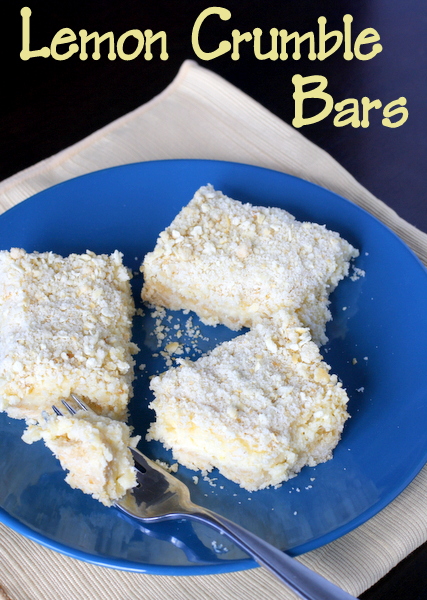 I've had this recipe for lemon crumble bars for years, and I can't believe it took me this long to make it! Shortly after I graduated college, a bunch of us planned a girls weekend to visit a friend. That friend, Erin, made these wonderful lemon bars that I couldn't stop eating. As I left I asked her for the recipe and she emailed it a short time later. Fast forward 6 years or so, and I finally made them – and they are just as good as I remember. They have a sweet and crumbly crust, and the middle is smooth and full of lemon flavor. They don't take many ingredients, and are pretty simple to throw together. If you're looking for a dessert to keep summer around a little longer, these lemon crumble bars are for you! 🙂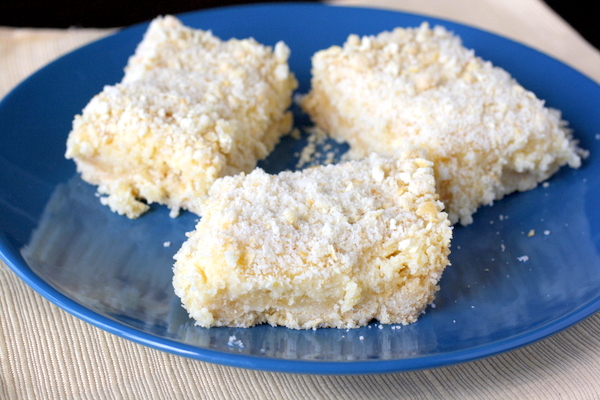 Lemon Crumble Bars
Ingredients:
For the Crumble Crust
1 (18.5 oz) package yellow cake mix
1/2 cup butter, softened
1 egg
2 cups crushed saltines
For the Lemon Center
1 (14 oz) can sweetened condensed milk
1/2 cup lemon juice
3 egg yolks
Directions:
Preheat oven to 350 F.
For the Crust: Using an electric mixer, beat together the cake mix, butter and egg until crumbly. Stir in crackers. Press all but 2 cups into 13x9 inch pan and bake 15 minutes. Meanwhile, make the filling.
For the filling: Beat sweetened condensed milk, lemon juice and egg yolks until well mixed.
Spread the filling mixture over the already baked crust. Sprinkle the remaining crumbs on top, pressing them lightly into the filling. Bake about 25 minutes, or until light golden brown. Let cool before cutting
*Cake Mix provided from the Cake Mix Doctor. Check back in a few days for a chance to win some of your own! 🙂