Baked Tomatoes with Quinoa, Corn, and Green Chiles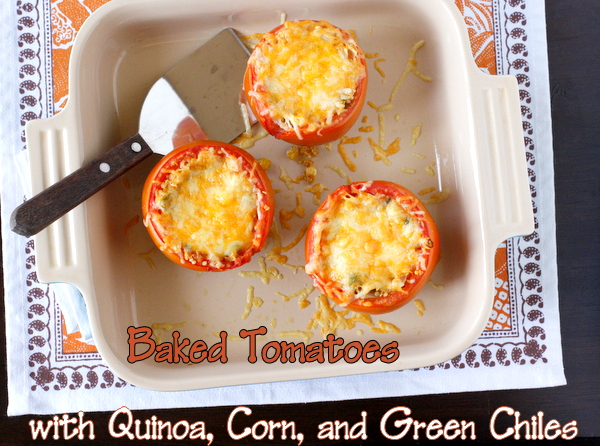 Would you believe this is the first time I've ever had a stuffed tomato? At least, as far back as I can remember it is. I'm guessing that if my mom ever made something that looked like this I would have complained mercilessly in the hope that I wouldn't have to eat it. Now I can't belive how much I've been missing not eating these wonderful things! These baked tomatoes with quinoa, corn, and green chiles are absolutely delicious. Fresh summer tomatoes provide the base, and the stuffing is a combination of cheesy quinoa, roasted poblano peppers and roasted corn and onions. Seriously, doesn't that sound good??
I actually gave Mike a choice of what to have for dinner the day I made these. I showed him recipes for chicken casserole, tortellini, and this baked tomato dish. He chose either the casserole or the tortellini, and I promptly said "well, it's tomato season so I think I'll make the baked tomatoes." And I wonder why he sometimes seems frustrated with me? 🙂 Anyway, it's all for his own good because he completely loved this meal.  Make this while tomatoes are still in season – you won't be sorry!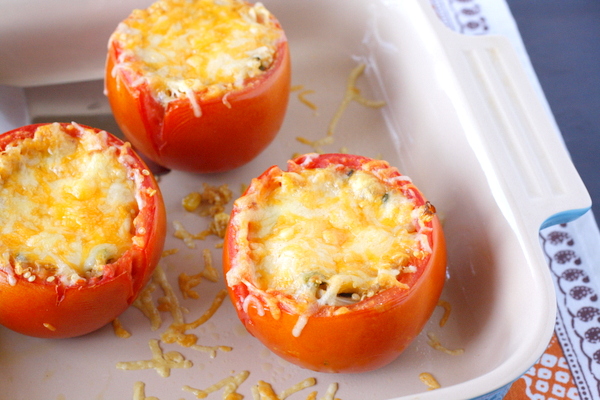 Baked Tomatoes with Quinoa, Corn, and Green Chiles
Ingredients:
2 poblano chiles
2 cups frozen corn kernels
1 cup chopped onion
1 tablespoon chopped fresh oregano
1 tablespoon olive oil
1 tablespoon fresh lime juice
1 teaspoon salt, divided
3/4 teaspoon ground cumin
1/4 teaspoon freshly ground black pepper
6 large ripe tomatoes (about 4 pounds)
1 cup uncooked quinoa
1/4 cup water
4 ounces colby-Jack cheese, shredded (about 1 cup, packed)
Directions:
Cut the tops off the tomatoes and carefully scoop out the tomato pulp, leaving shells intact. Drain pulp through a sieve over a bowl, pressing with the back of a spoon to extract liquid. Reserve 1 1/4 cups liquid, and discard remaining liquid. Sprinkle tomatoes with 1/2 teaspoon salt, invert on a wire rack and let stand 30 minutes.
Meanwhile, Cut the chiles in half lengthwise, cut out and discard seeds and membranes. Place chile halves, skin side up, on a foil-lined baking sheet. Flatten with your hand and broil 8 minutes or until blackened. Remove from the oven and wrap the foil up and around the peppers to trap in the steam. Let stand 10 minutes, or until cool enough to handle, then peel the skin off. Coarsely chop chiles and place in a large bowl.
Add corn and onion to same pan the chiles were on and broil 10 minutes, stirring halfway through. Add the corn mixture to the bowl with the chopped chiles. Stir in the oregano, oil, lime juice, 1/4 teaspoon salt, cumin, and black pepper.
Place quinoa in a fine sieve, and place sieve in a large bowl. Cover quinoa with water. Using your hands, rub the grains together for 30 seconds; rinse and drain. Repeat the procedure twice. Drain well. Combine reserved tomato liquid, quinoa, 1/4 cup water, and the remaining salt in a medium saucepan. Bring to a boil, then cover and reduce heat; simmer for 15 minutes or until liquid is absorbed. Remove from heat, fluff with a fork, and add to corn mixture; toss well.
Preheat the oven to 350 and dry insides of the tomatoes with a paper towel. Spoon about 3/4 cup corn mixture into each tomato and top with the cheese. Place tomatoes on a jelly-roll pan and bake for 15 minutes. Turn the oven to the broil setting and broil the tomatoes for 2 minutes or until cheese is lightly browned. Serve immediately.