Hamburger Vegetable Barley Soup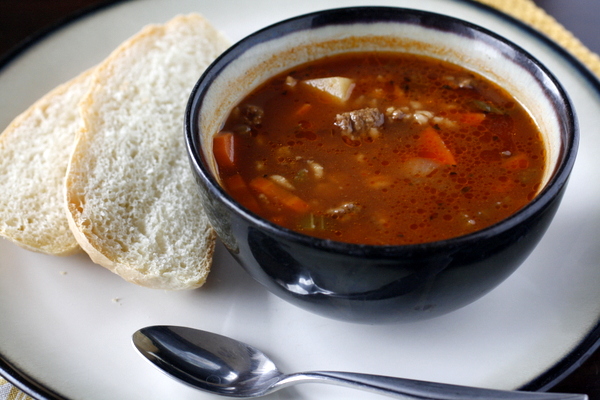 I first tasted this recipe months ago, and I've already made it twice since then. I think it's about time I share the recipe, don't you? This hamburger vegetable soup comes from my aunt, who always has wonderful recipes to share.  I tasted this at my parents house, then immediately emailed her for the recipe.  I changed the recipe slightly when I made it, based on what I had on hand, and thankfully couldn't taste much difference – I didn't want to mess too much with a good thing! This soup is a comforting blend of ground beef, vegetables, and a rich tomato beef broth. It makes plenty, so plan for leftovers, and feel free to adjust the seasonings to your tastes. It's so easy and so good that it's already made it into the regular rotation over here. 🙂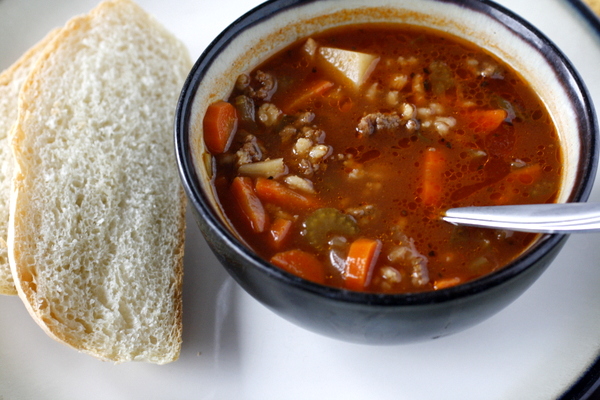 Hamburger Vegetable Barley Soup
Ingredients:
1 pound ground beef
8 cups low sodium beef broth
2 cups chopped carrots
1 cup chopped celery
1 cup chopped onions
4 medium potatoes, peeled and cut into bite size pieces
1/3 cup chopped cabbage
1/2 cup quick cooking barley
2 tsps dried basil
4 cups tomato juice
1/2 tsp seasoned salt
Directions:
Brown the meat in large stock pot.
Add the broth, vegetables, seasonings and barley.
Bring to a boil, then simmer until vegetables are tender and barley is cooked.
Add the tomato juice and simmer 10 minutes longer.
Taste and adjust seasonings before serving.