Carrot Cake Cupcakes
These carrot cake cupcakes make me think of Spring! I don't know what it is about carrot cake, but I really think it makes the perfect Easter dessert as well. Maybe it's the connection between carrots and bunnies? 🙂 Whether that's it or not, these carrot cake cupcakes are sure to be a hit anywhere you bring them. They are light and moist and full of good things like cinnamon, pineapple, walnuts and coconut.  The cream cheese icing has a faint orange flavor which pairs perfectly with the spices in the cupcakes. My mom sent me this recipe for carrot cake years ago and nothing I've had since has even come close. This is definitely a family favorite, and I hope it becomes your family's favorite as well. 🙂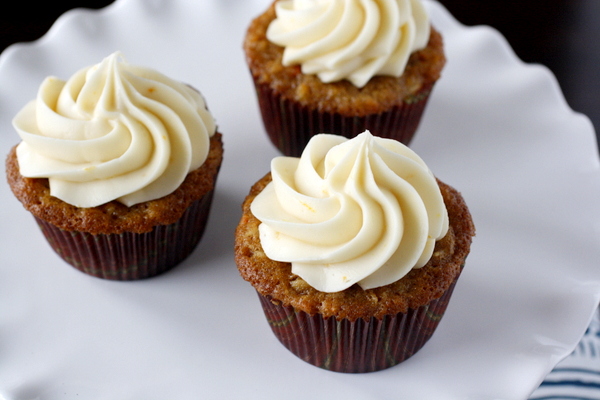 Carrot Cake Cupcakes
Ingredients:
Cake:
2 cups all-purpose flour
2 teaspoons baking soda
2 teaspoons cinnamon
1/2 teaspoon salt
3 eggs
3/4 cup vegetable oil
3/4 cup buttermilk
2 cups granulated sugar
2 teaspoons vanilla extract
1 (8 ounce) can crushed pineapple, drained
2 cups grated carrots
3 1/2 ounces shredded coconut (I somehow managed to estimate this out to be about 14 Tbsp ~3/4 cup?)
1 cup coarsely chopped walnuts
Cream Cheese Frosting:
1/4 lb butter or margarine, softened
1 1/2 packages of cream cheese (12 oz total)
1 1/2 tsp vanilla extract
3 cups powdered sugar
1 1/2 tsp orange juice
1 1/2 tsp orange zest
Directions:
For the cake: Pre-heat oven to 350. Place paper liners in muffin tins (enough for 24 cupcakes) and set aside.
In a medium-sized bowl, sift together the flour, baking soda, cinnamon and salt and set aside. In a large bowl combine the eggs, oil, buttermilk, sugar and vanilla. Mix well. Add the flour mixture, drained pineapple, carrots, coconut and walnuts. Stir well. Distribute batter evenly between the muffin tins. Bake for 16-18 minutes or until top of one of the middle cupcakes springs back when touched. Cool 5-10 minutes in pan, then transfer to a cooling rack to cool completely
Make the cream cheese frosting. Cream butter or margarine and cream cheese until fluffy. Add vanilla, powdered sugar, orange juice, and zest. Mix until smooth.