Egg and Sausage Casserole
Recently we had some friends stay with us for the weekend, and I took full advantage of the opportunity to test out new recipes on them. 🙂 We made this sausage and egg casserole for breakfast on Saturday morning and thankfully everyone declared it good enough to go on the blog. I didn't plan ahead enough to have any of it done the night before, but it made for a fun and lazy Saturday morning  to just hang out in the kitchen browning sausage, chopping veggies, and creating this egg casserole. The end result was more than worth the work, and it baked up into such a pretty and tasty breakfast. You can't go wrong with eggs, sausage, cheese and bread, and this casserole is certainly proof of that.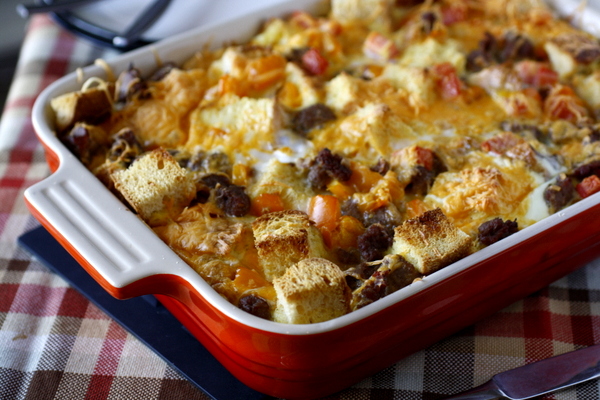 Egg and Sausage Casserole
Ingredients:
1 lb bulk sausage
2 cups sliced fresh mushrooms (about 8 oz)
6 cups cubed French bread, divided
2 cups cheddar cheese, divided
1 cup chopped tomatoes, divided
10 eggs, lightly beaten
3 cups milk
2 tsp regular mustard powder
1/2 tsp salt
1/4 tsp pepper
1 tsp Italian seasoning
Directions:
Preheat oven to 350. In a large skillet, cook the sausage and mushrooms until the meat is nicely browned; drain. Place half of the bread cubes in a greased 9x13 baking dish; top with half of the sausage mixture, half of the cheese and half of the tomatoes. Repeat. In a large bowl, combine the eggs, milk, mustard, salt, pepper and Italian seasoning. Whisk until well combined. Pour over the bread mixture. Bake, uncovered, for 50-60 minutes, until risen, brown, and set in the middle. Let stand for 10 minutes before serving.
from the Penzey's Spice Catalog