Baked Onion Rings with Chipotle Ranch Dressing
As soon as I saw these baked onion rings in a recent edition of Real Simple, I knew I had to make them. I love onion rings, and the chipotle ranch dressing sounded pretty amazing too. Well, I'm happy to say these did not disappoint! Mike and I both loved these and polished off the whole recipe for lunch one day. Nothing like a well rounded meal, right? 🙂 The onion rings took a bit of time to make, but they were delicious enough to be worth the effort. The rings were crispy and full of flavor, and the dipping sauce was a great addition. Best of all, they were definitely healthier than the kind you'd order in a restaurant!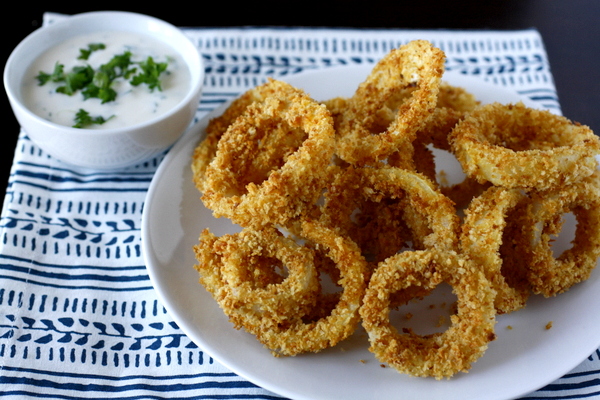 Baked Onion Rings with Chipotle Ranch Dressing
Yield: Serves 4
Prep Time: 30 min
Cook Time: 15 min
Total Time: 45 min
Ingredients:
1 1/2 cups panko bread crumbs
1/4 cup olive oil
Kosher salt and black pepper
1/4 cup all purpose flour
2 large eggs, lightly beaten
1 small sweet onion, sliced and rings separated
3/4 cup buttermilk
1/3 cup mayonnaise
1 tsp chopped chipotles in adobo sauce (or more to taste)
2 Tbsp finely chopped fresh parsley
Directions:
Heat oven to 450. Toss the bread crumbs with 2 Tbsp of the oil, 1/2 tsp salt, and 1/4 tsp pepper. Bake on a rimmed baking sheet, tossing once, until golden brown, 3-5 minutes. Transfer to a shallow bowl. Place the flour and eggs each in separate shallow bowls.
Rub the remaining oil on 2 rimmed baking sheets. Dip the onion rings in the flour and eggs, letting any excess drip off, then coat with the bread crumbs, pressing gently to hep them adhere. Bake on the prepared baking sheets, turning once, until tender, 12-14 minutes.
Whisk together the buttermilk, mayonnaise, chipotles, parsley, and 1/4 tsp salt in a small bowl.
Serve with the onion rings for dipping.