Brown Butter Oatmeal Chocolate Chip Cookies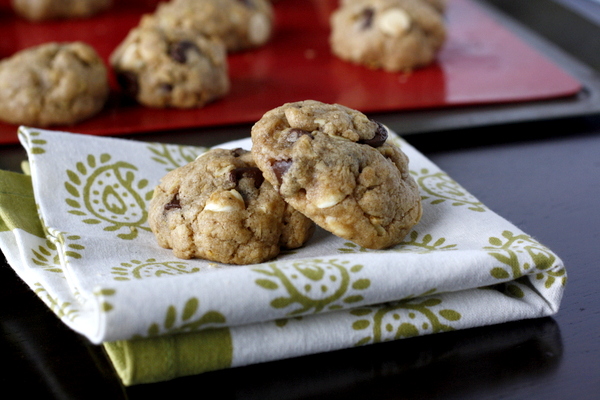 OK, let me just start out by saying these cookies are amazing! You really can't go wrong with brown butter, oatmeal and chocolate chips.  I have made 3 batches of these so far, and every time I just can't get over how good they are!  Everyone I've shared these cookies with has agreed, so it's not just me. 🙂 They have that perfect chocolate chip cookie flavor, but with a little extra complexity from the brown butter. I love that they don't spread, but stay nice and thick after baking. Also, they are so soft and chewy, which is exactly what I'm looking for in a cookie. In short, these just might be a new favorite. 🙂
Brown Butter Oatmeal Chocolate Chip Cookies
Ingredients:
1/2 cup unsalted butter
1/2 cup granulated sugar
1/2 cup loosely packed brown sugar
1 large egg
2 teaspoons vanilla extract
1 1/4 cup all-purpose flour
3/4 cups rolled oats
1/4 teaspoon salt
1/2 teaspoon baking powder
1 1/2 teaspoons cinnamon
1 cup chocolate chips (I used half chocolate chips, half white chocolate chips)
optional: 1- 2 tablespoons milk, if dough is crumbly
Directions:
Melt butter in a small saucepan over medium heat. Let cook until little brown bits appear in the pan. The crackling will subside and butter will begin to brown fairly quickly after that. Keep a close eye so it doesn't get too brown. Remove from heat and let cool.
In a small bowl, whisk together the flour, salt, baking powder, oats and cinnamon. Set aside.
Once butter has cooled, transfer to a large bowl. Whisk in the sugars until smooth. Add in egg and vanilla, whisking until smooth once again. Gently stir in the dry ingredients. If you find that the dough still won't come together, add in milk 1 tablespoon at a time (I haven't had to do this.) Fold in chocolate chips and refrigerate dough for 30 minutes.
Preheat oven to 375 degrees F. Form dough into 1 1/2 inch balls. Place about 2 inches apart on a nonstick baking sheet and bake for 10-12 minutes, or until bottoms and edges are golden. Cool completely on the baking sheet.