Chicken and Vegetable Stir-Fry
During this time of year you can't go wrong with a good stir-fry recipe. This delicious chicken and vegetable stir-fry makes great use of fresh summer produce and cooks up quickly so you aren't heating your house up by using the stove or oven all day. I love how fresh and healthy this meal tastes, and I also love how you can modify it to suit your own tastes. I didn't have any cabbage, so I left it out, and feel free to change up the vegetables to include what you have on hand. I happen to love snap peas and peppers, so this was pretty much perfect for me as written. The sauce is nice and flavorful, and very easy to make. All in all this meal comes together in less than 20 minutes – you can't beat that on a busy summer evening!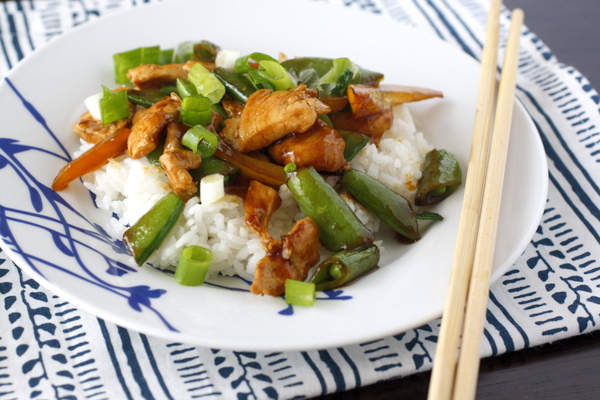 Chicken and Vegetable Stir-Fry
Ingredients:
2 tsp sesame oil
12 oz skinless, boneless chicken breast, cut into 1/4-inch-thick strips
3 cups thinly sliced napa (Chinese) cabbage
1 cup sugar snap peas, trimmed and halved diagonally
1 large red bell pepper, thinly sliced
3 Tbsp soy sauce
2 Tbsp hoisin sauce
1 tsp cornstarch
1 tsp rice vinegar
Cooked white rice, for serving
2 green onions, cut diagonally into 1/2-inch pieces, for serving
Directions:
Heat a large skillet over medium-high heat. Add oil; swirl to coat. Add chicken; cook 2-3 minutes on each side or until done. Add cabbage, peas, and bell pepper. Cook 3 minutes or until crisp-tender, stirring occasionally.
Combine soy sauce, hoisin sauce, cornstarch and rice vinegar in a small bowl. Add to pan and cook 1 minute, stirring gently to coat. Serve with rice. Sprinkle with onions.
from Cooking Light, July 2013