Baked Gnocchi with Chicken
This baked gnocchi with chicken is true comfort food.  Chicken and gnocchi are combined with mushrooms and spinach and baked in a nice creamy sauce. This dish only takes about 40 minutes, start to finish, and makes a great weeknight meal . We love gnocchi in our house, and the creamy sauce and chicken were a nice change of pace from our usual tomato sauce version.  Mike was a big fan of this meal, and since it's so simple make, I'm guessing it will make an appearance on our dinner table again. 🙂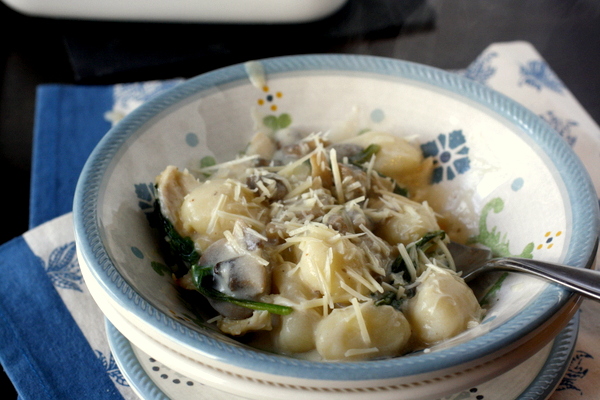 Baked Gnocchi with Chicken
Ingredients:
1 Tbsp extra-virgin olive oil
8 oz white mushrooms, sliced (about 4 cups)
Kosher salt and freshly ground pepper
2 Tbsp unsalted butter
2 Tbsp all-purpose flour
1 1/2 cups whole milk
1 cup low-sodium chicken broth
1/4 tsp freshly grated nutmeg
1/2 rotisserie chicken, skin removed, meat shredded (about 2 cups)
1 17.5-oz package potato gnocchi
1 1/2 cups loosely packed baby spinach
1/4 cup grated parmesan cheese (about 1 oz)
Directions:
Position a rack in the upper 1/3 of the oven and preheat to 425. Heat the oil in a deep ovenproof skillet over medium-high heat. Add the mushrooms, season with salt and pepper and cook, stirring occasionally, until lightly browned, about 4 minutes. Transfer to a plate and wipe out the skillet.
Melt the butter in the skillet over medium heat; add the flour and cook, whisking, 3 minutes. Whisk in the milk and chicken broth until smooth. Simmer, whisking constantly, until slightly thickened, about 5 minutes. Whisk in 1/2 tsp salt and the nutmeg.
Add the chicken, mushrooms, gnocchi, and spinach to the sauce and stir until coated and the spinach wilts. Sprinkle with the parmesan, transfer the skillet to the oven and bake until bubbling, about 20 minutes. Turn on the broiler; broil until lightly browned on top, about 3 more minutes.
from Food Network Magazine, Oct 2013