Whole Wheat Banana Maple Muffins
Let me introduce you to one of my new favorite recipes: whole wheat banana maple muffins! A very sweet neighbor dropped some of these delicious muffins off at our house just after we moved in, and since she already knew that I loved to bake, she also included the recipe! Lucky me, because Zeke absolutely loves these muffins. Actually, we all do! They are made from whole wheat flour and there is only 1/3 cup of maple syrup in the whole batch. That means I don't feel guilty feeding them to Zeke, or eating one myself. 🙂 Thanks to the bananas, though, they still taste nice and sweet – a must for muffins around here. They also freeze well, and you can bet I'll be making a batch of these muffins every few weeks or so. Enjoy!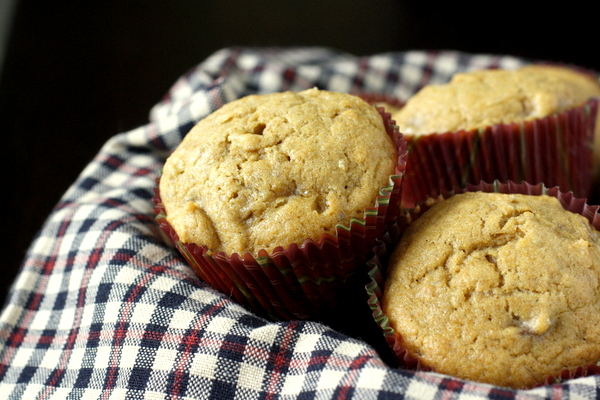 Whole Wheat Maple Banana Muffins
Ingredients:
1 1/2 cups whole-wheat flour
3/4 tsp baking soda
1/2 tsp salt
1/4 tsp baking powder
2 eggs
1/2 cup (1 stick) butter, melted
1/3 cup pure maple syrup
2 very ripe bananas, peeled and mashed
Directions:
Preheat the oven to 350 degrees F. Line a muffin pan with 12 paper liners.
In a large bowl whisk together the flour, baking soda, salt and baking powder. In a separate bowl, mix together the mashed bananas, eggs, melted butter, and maple syrup. Stir the dry ingredients into the wet ingredients just until mixed. Distribute batter evenly into the 12 muffin cups.
Bake 20-22 minutes, or until they begin to brown on top and a toothpick inserted into a center muffin comes out clean or with moist crumbs.