Cream Cheese Banana Bread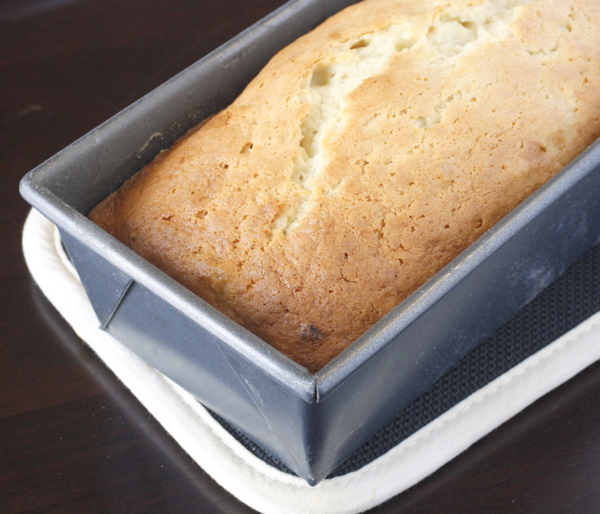 This cream cheese banana bread was a huge hit around here. There's not much better than a warm slice of banana bread, straight out of the oven. I love the smell of it baking and the way it uses up all those brown bananas I haven't gotten around to eating. I already had a favorite banana bread, but when a friend brought me a taste of this recipe into work I knew I needed to add this one to the rotation.  The cream cheese adds a softness to the bread and keeps it moist for days. It also adds a slightly different flavor and texture that I loved. Like most banana breads, this recipe is pretty simple and yields great results.  We ate this as a snack for days, and I have to admit I was guilty of continually slicing off tiny slivers every time I walked through the kitchen. This bread certainly gives my previous favorite a run for its money!
Cream Cheese Banana Bread
Ingredients:
3/4 cup butter, softened
8 ounces cream cheese, softened
2 cups sugar
2 large eggs
3 cups all-purpose flour
1/2 teaspoon baking powder
1/2 teaspoon baking soda
1 teaspoon salt
1 1/2 cups mashed bananas (about 4 medium)
1 cup chopped pecans
1/2 teaspoon vanilla extract
Directions:
In a large bowl, beat butter and cream cheese at medium speed until creamy. Gradually add sugar, beating until light and fluffy. Add eggs, 1 at a time, beating after each addition. Add in the bananas and vanilla, mixing until combined.
In a medium bowl combine the flour, baking powder, baking soda and salt. Gradually add the flour mixture to the butter mixture, beating at low speed just until combined. Stir in the pecans. Spoon batter into 2 greased and floured 8x4-inch loafpans.
Bake at 350° for 1 hour or until a toothpick inserted in center comes out with moist crumbs and the sides pull away from the pan. If necessary, cover with aluminum foil during the last 15 minutes to prevent over-browning. Cool bread in pans on wire racks 10 minutes. Remove from pans, and cool completely before slicing.