Glazed Apple Oatmeal Cookies
Am I overloading you with fall treats? I hope not, because so far I've only posted apple recipes – pumpkin is still to come! In the meantime however, let's all enjoy these glazed apple oatmeal cookies. If you've been reading this blog for any length of time, you will know that I love pretty much any cookie that has a glaze on it, and these cookies are no exception. The actual cookies in this recipe are not overly sweet. They are soft and cake-like, and could almost pass as muffin tops. The cinnamon glaze adds a nice dose of sweetness and makes them a little more dessert-like. Although I have to say, I took these to a girls group at church, and we all ended up eating them for breakfast. 🙂 They do have oatmeal in them, so I say that makes them fair game to eat time of day.  🙂 No matter when you enjoy them, these glazed apple oatmeal cookies will add a delicious dose of cinnamon spice to your day. Enjoy!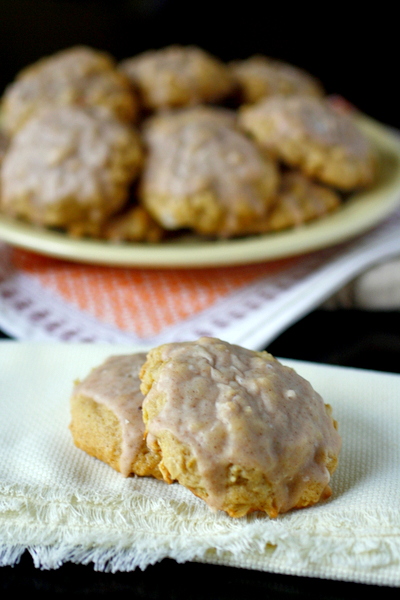 Glazed Apple Oatmeal Cookies
Ingredients:
2 1/4 cups all-purpose flour
1 cup old-fashioned oats
1 tsp ground cinnamon
3/4 tsp baking powder
1/2 tsp baking soda
1/2 tsp salt
1/4 tsp ground allspice
1 1/2 sticks unsalted butter, melted and cooled slightly
1/2 cup packed light brown sugar
1/2 cup granulated sugar
2 large eggs
1 Fuji or Gala apple, peeled and grated
2 tps pure vanilla extract
1 cup confectioners' sugar
1/2 tsp cinnamon
2 Tbsp milk
Directions:
Preheat oven to 350 degrees F. Line 2 baking sheets with parchment paper and set aside.
In a medium sized bowl, whisk together the flour, oats, cinnamon, baking powder, baking soda, salt and allspice. In a large bowl, combine the butter, brown sugar, granulated sugar and eggs and whisk until smooth. Stir in the grated apple and vanilla, then stir in the flour mixture until just combined.
Scoop heaping tablespoonfuls of the dough onto the prepared baking sheets, about 1 inch apart. Bake until just set around the edges, 10 to 12 minutes. Let cool 5 minutes on the baking sheets, then transfer to a rack to cool completely.
Make the glaze: Whisk the confectioners' sugar, cinnamon and milk in a bowl; drizzle on the cooled cookies.