Easy Chocolate Chip Muffins
You are going to love these chocolate chip muffins! They are so quick and easy to make, and if you're like me and always keep chocolate chips on hand in your kitchen, I'm guessing you have everything you need to make these. They are perfectly soft and cake-like, and the sprinkle of sugar on top gives them a nice crunch. They are rich and buttery, and chock full of chocolate chips! I've made them countless times already, and every single time they've baked up nice and tall and pretty. If you want a healthier muffin, feel free to cut down on the sugar and chocolate a little. If you're like me and just want an excuse to eat something unhealthy for breakfast, make them as written. You won't be sorry. 🙂 I've shared these muffins with lots of different people, and everyone has loved them. This is sure to be one muffin recipe you make over and over.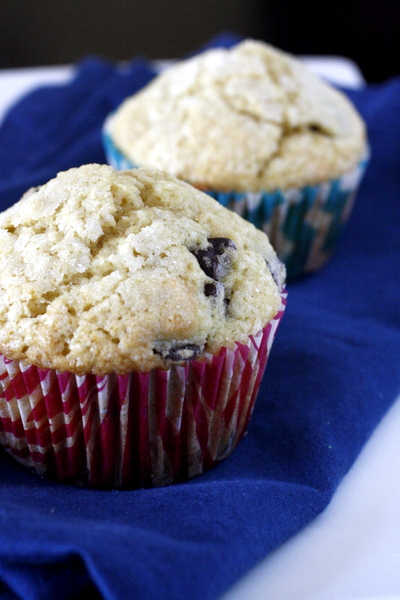 Easy Chocolate Chip Muffins
Ingredients:
2 cups all-purpose flour
1⁄3 cup brown sugar
1⁄3 cup granulated sugar
2 tsp baking powder
1⁄2 tsp salt
2⁄3 cup milk
1⁄2 cup butter, melted and cooled
2 eggs, lightly beaten
1 tsp vanilla
1 1/2 cups chocolate chips
Directions:
Preheat oven to 400. Grease twelve muffin cups or line with paper liners. Set aside.
In a large bowl, whisk together flour, sugars, baking powder, and salt. In a separate bowl, stir together milk, eggs, butter, and vanilla until blended. Add wet ingredients to dry ingredients and stir just until combined. Stir in chocolate chips.
Spoon batter into prepared muffin cups and bake for 15-20 minutes or until a cake tester inserted in center of a muffin comes out clean.
Let muffins cool in the tin for 5 minutes, then remove muffins to a wire rack to cool completely.