Best Ever Apple Pie
I can't believe I've been blogging for this many years, and this is the first time I've ever posted a recipe for apple pie on my site! Apple pie is one of my very favorite desserts, and one that I try to make every fall.
I usually use the tried and true Betty Crocker recipe from an old cookbook I have, but this time I thought I would try something a little new and different. And let me tell you, this apple pie is amazing! 🙂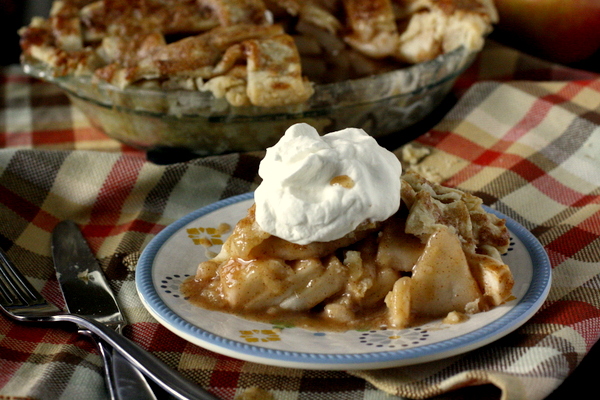 The apples are tossed in a sweet caramel-like sauce that you make on the stove, which makes the filling of this pie absolutely incredible. Hopefully you can tell from the pictures, but the sauce coats the apples and gives the whole pie a wonderful cinnamon and caramel flavor.
I also brushed a little of the filling mixture on top of the pie crust, which gave the crust a beautiful golden brown color and also added a little extra flavor and sweetness. The pie actually held together really well considering I cut it while it was still warm, (I'm not the only one who can't wait for pies to cool all the way, right??) and it was delicious with a spoonful of lightly sweetened whipped cream on top.
This truly is the best apple pie I've ever made, and I'm planning to save this recipe for years to come. Enjoy! 🙂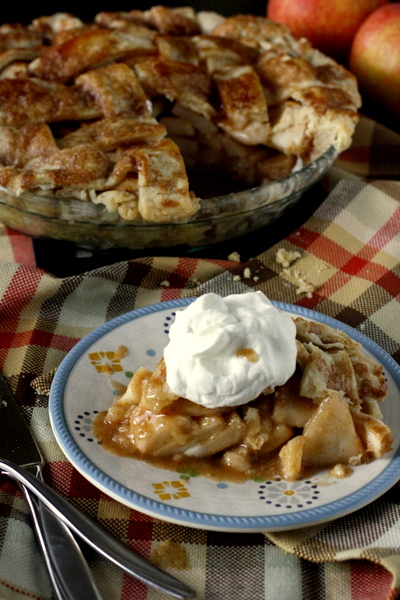 Best Ever Apple Pie
Ingredients:
Double Pie Crust for a 9-inch pie (I used this recipe from Betty Crocker)
7-8 small granny smith apples, peeled, cored, and sliced
1/2 cup (1 stick) butter
3 Tbsp all-purpose flour
1/4 cup water
1/2 cup white sugar
1/2 cup brown sugar
1 heaping tsp cinnamon
1/4 tsp nutmeg
1 tsp vanilla
Directions:
Place the in a large bowl and set aside. Roll out half of the pie crust and place in a 9-inch pie pan. Prepare the top half of the crust so it's ready to go. Preheat oven to 425F.
In a medium sauce pan, melt butter over medium heat. Add the 3 tbsp of flour and mix well, forming a paste. Add the water, sugars, cinnamon, nutmeg, and vanilla and mix well. Bring to a boil for 1 minute, then reduce heat to a simmer for an additional minute. Remove from heat and reserve about 1/3 cup of filling for pie crust. Add remaining filling to apples and toss well.
Pour apples into prepared pie crust, mounding slightly. Top with second pie crust (I did a lattice design). Brush the reserved 1/3 cup filling over the crust.
Cover the pie loosely with aluminum foil (sprayed lightly with cooking spray so it doesn't stick to the top of the pie). Place the pie on top of a cookie sheet and bake at 425F for 10 minutes. Reduce the heat to 350F and bake for another 50 minutes, removing the foil the last 15 minutes to let the crust brown. The pie is done when the crust is golden-brown and the apples are soft when pierced with a fork.