Peppermint Crunch Brownies
Day 10 of the 12 Days of Christmas Treats, and today's treat is these delicious peppermint crunch brownies!  What could be more wonderful than the combination of  chocolate, white chocolate and peppermint, all in brownie form?? I have no doubt you will love these brownies.
They are rich and fudgy and would be delicious all on their own. Of course I couldn't leave them alone though – I had to add in a crunchy peppermint white chocolate topping that just puts these brownies over the top.
I had to force myself to freeze these immediately after making them because I was tempted to eat way too many of them. I can't wait to bring them out and serve them at holiday parties and family gatherings – yum!
*See all 12 days of Christmas Treats from 2014 here! 🙂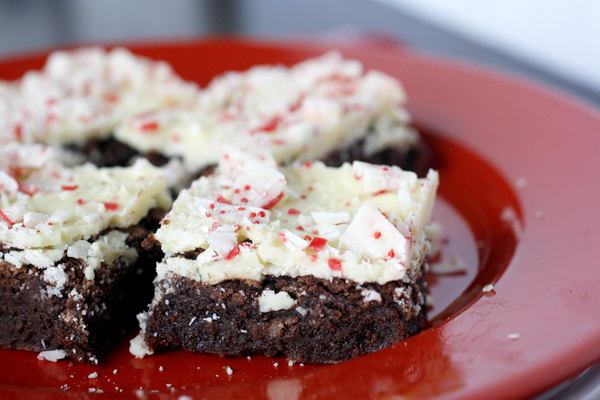 *Check out the delicious treats from previous years!  Cranberry Bliss Bars | Flaky Peppermint Cream Filled Cookies| Chocolate Peppermint Crinkles | Candy Cane Fudge
P.S. You can see all of my Christmas treat recipes from over the years at this Christmas Cookies tag. Enjoy! And, as always, let me know if you try any and how you liked them.
Peppermint Crunch Brownies
Ingredients:
1/2 cup (1 stick) unsalted butter, plus more for the pan
3/4 cup all-purpose flour
1/4 cup unsweetened cocoa powder
1/2 teaspoon baking powder
1/2 teaspoon kosher salt
6 ounces semisweet chocolate, chopped
1 cup sugar
2 large eggs
1 teaspoon pure vanilla extract
6 ounces white chocolate, chopped
1 teaspoon canola oil
1/3 cup chopped peppermint candies (I used chopped candy cane kisses)
Directions:
Heat oven to 350° F. Butter an 8-inch square baking pan and set aside.
In a medium bowl, whisk together the flour, cocoa, baking powder, and salt; set aside.
In a large microwave-safe bowl, combine the butter and semisweet chocolate. Microwave on high in 30-second intervals, stirring between each, until melted and smooth. Let cool slightly. Whisk in the sugar, eggs, and vanilla until smooth.
Add the flour mixture and mix until just combined (do not overmix). Spread the batter in the prepared pan and bake until a toothpick inserted in the center comes out clean, 30 to 35 minutes. Let cool completely in the pan.
In a medium microwave-safe bowl, microwave the white chocolate and oil in 30-second intervals, stirring between each, until melted and smooth.
Spread on top of the cooled brownies. Sprinkle with the candies and let set.