Dulce de Leche Hot Chocolate
Don't you just love super fancy coffee shop drinks that you can make at home?? I do, which is probably why I keep using toddler nap time to try out different yummy combinations. 🙂 This dulce de leche hot chocolate is one of my favorites! It is so deliciously sweet and smooth and creamy! It's very rich, so a little goes a long way, but it sure is a nice treat on a cold fall day! I made this one night for Mike and I to try and we both loved it. I made the full recipe, so I ended up refrigerating the leftovers. Well, the next day I made something that we liked even better than the original hot chocolate! I combined the dulce de leche hot chocolate with our morning coffee – half hot chocolate, half coffee.  It was delicious! I wish I could drink it every day, that's how good it was. Mike swears it's one of the best things I've ever made. So there you go – the hot chocolate is amazing on its own, but we think it's even better when combined with coffee. However you drink it, I'm pretty sure you'll love it. 🙂
p.s. You can buy dulce de leche at the store (or on Amazon), or make your own. I used this recipe to make my own and it was so easy!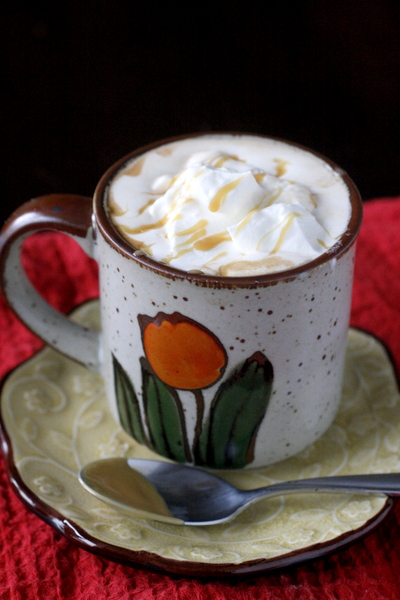 Dulce de Leche Hot Chocolate
Ingredients:
2 1/2 cups milk
2 ounces semisweet chocolate, chopped
1/2 cup dulce de leche, plus more for topping
1 cinnamon stick
Whipped cream, for topping
Directions:
Bring the milk to a simmer in a saucepan over medium heat. Add the chocolate, dulce de leche and cinnamon stick.
Cook, stirring, until the chocolate melts and the mixture is combined, about 2 minutes.
Cover and keep warm over low heat.
Serve topped with whipped cream and a drizzle of dulce de leche.
adapted from Food Network Magazine