Garlic Herb and Cheese Pull-Apart Bread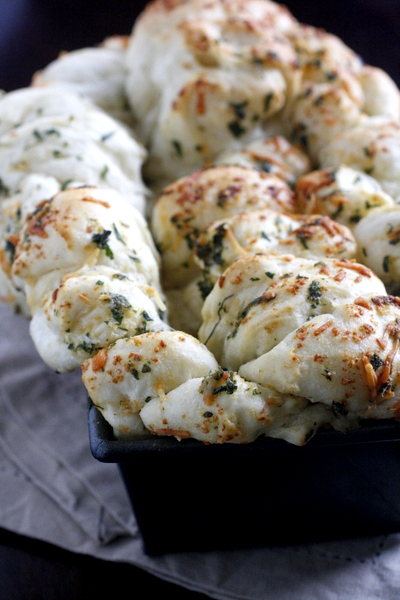 Let me introduce you to your new favorite garlic bread. 🙂 Seriously – you will love this! My mom has been making a version of this garlic herb and cheese pull-apart bread for years – we called it "pinch me" bread growing up because you pinch off the pieces instead of slicing them. You always knew there was company coming for dinner when you saw the pinch me bread rising on the counter. 🙂
This bread is so simple to make and it tastes like you spent hours slaving over it. It starts with frozen bread dough, which cuts down on prep time considerably. All you have to do is roll pieces of the dough into little balls, dip in a butter/garlic/parsley mixture and nestle all the little dough balls in the bread pan. Sprinkle cheese on top, let rise, and bake. You end up with a warm, buttery, garlicky, delicious bread that you won't be able to stop eating. Seriously, this bread is addicting! It looks impressive and tastes even better than it looks – you really can't go wrong with this garlic herb and cheese pull-apart bread!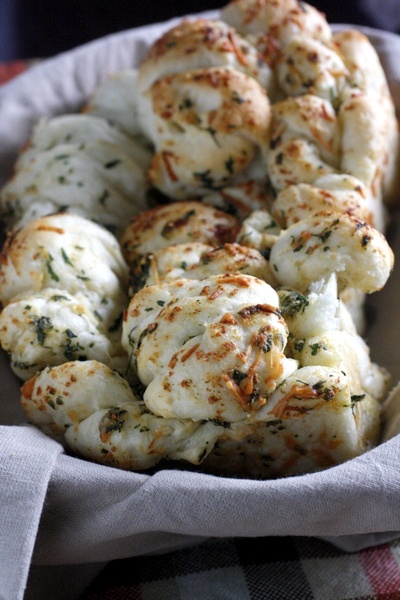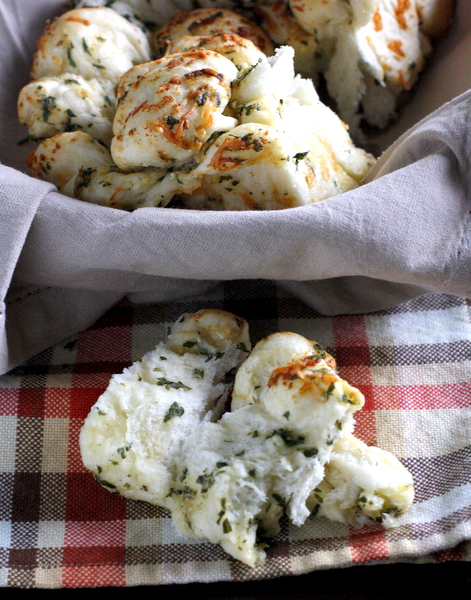 Garlic Herb and Cheese Pull-Apart Bread
Yield: Makes 1 9-inch loaf
Ingredients:
5 Tbsp butter, melted
2 tsp dried parsley
1 1/2 tsp garlic powder
1 pound frozen bread dough, thawed
1/4 cup Parmesan cheese
Directions:
Lightly spray a 9-inch bread pan with cooking spray. In a small bowl combine the melted butter, parsley and garlic powder. Tear off pieces of the bread dough and roll into 1-inch balls. Dip the balls into the melted butter mixture and set in the bottom of the bread pan. Repeat until you've used all the dough, making sure the dough balls form a single layer in the bottom of the bread pan. Pour any remaining butter mixture on top of the dough balls. Sprinkle Parmesan over the top.
Set pan in a warm place and let rise 1 hour, or until bread is just higher than the top of the bread pan. Bake at 325 degrees F for 20-25 minutes, or until golden brown on top and cooked through. If the bread seems to be browning too quickly, tent with aluminum foil towards the end of the cooking time. Let cool 5-10 minutes before removing from the pan. Serve warm, or at room temperature.
*Note: You may want to set a baking sheet underneath the bread pan to catch any drips of butter.
This post was sponsored by the United Dairy Industry of Michigan, but as always, all opinions are my own. I personally love working for UDIM because Milk is a local food, produced by hardworking Michigan farm families. That means cheese, yogurt and other dairy foods are local too! Follow UDIM on Facebook, Pinterest, YouTube, Instagram, and Twitter to find out why Milk Means More.