Vanilla Bean Shortbread Cookies with Orange Buttercream
You are going to love these vanilla bean shortbread cookies with orange buttercream! Aren't they pretty? The flavors of vanilla and orange always seem to go so well together, and that is definitely true in these cookies.
The cookie base is a classic shortbread cookie with the addition of a vanilla bean for an added boost of flavor. While the cookie is delicious on its own, it is even better with the orange buttercream on top!
The icing is a typical butter/powdered sugar buttercream, but with a tiny bit of orange extract added to give it a wonderful light orange flavor. It is smooth and creamy and pairs perfectly with the slightly crunchy cookie.
In short, you will love these! Plus, they look so pretty on a cookie tray. I hope you try them, they are something a little different that everyone will enjoy.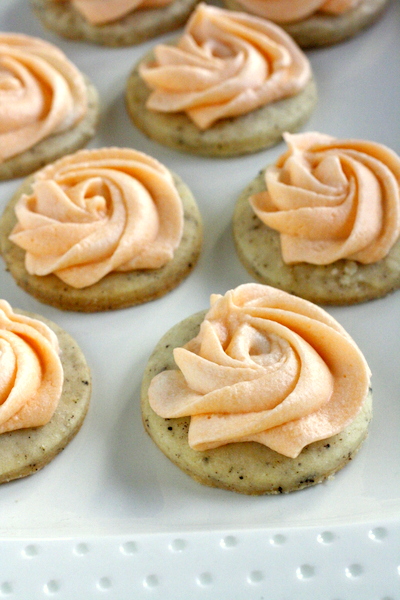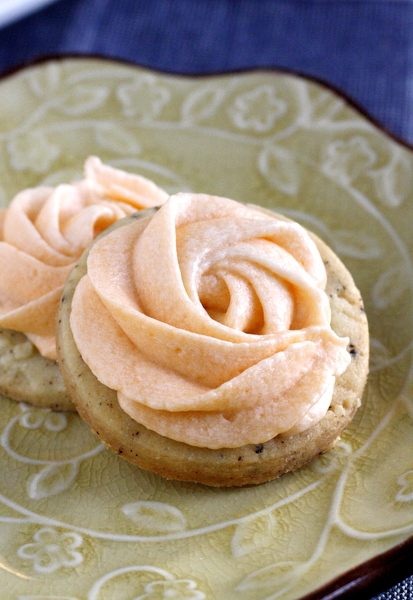 Vanilla Bean Shortbread Cookies with Orange Buttercream
These pretty little shortbread cookies combine the flavors of orange and vanilla in the crunchy cookie and creamy frosting!
Ingredients:
For the cookies:
2 cups all purpose flour
1 cup (2 sticks) unsalted butter, cut into ½ inch cubes
½ cup powdered sugar
2 Tablespoons cornstarch
¾ teaspoon salt
1 vanilla bean
For the icing:
1/4 cup butter, softened
2 cups powdered sugar
1/2 teaspoon vanilla extract
1/8 teaspoon orange extract
2 to 3 Tablespoons whole milk or cream
orange food coloring, optional
Directions:
Make the cookies: Line 2 baking sheets with parchment paper and set aside. In a large bowl add the flour, butter, sugar, cornstarch and salt. Split the vanilla bean in half with a knife and scrape the seeds into the bowl. Using an electric mixer on low speed, beat the ingredients together until the dough just comes together, about 2 minutes.
Transfer the dough to a floured surface and roll out until it is 1/3 inch thick. Using a small biscuit cutter, cut circles out of the dough and place on prepared baking sheets. Repeat until all the dough is used. Refrigerate until firm, about 30 minutes. Preheat oven to 350 and bake cookies for 10-12 minutes, or until just beginning to brown on the bottoms. Let cool completely.
Make the icing: In a small bowl, cream butter until light and fluffy. Beat in the powdered sugar, and vanilla extract and orange extract. Add milk or cream slowly, a little at a time, until the icing is the right consistency. Add in a drop or two of orange food coloring, if using and stir until color is uniform. Ice the cooled cookies.
*I used a Wilton 1M tip to make the swirls you see in the picture.
This post was sponsored by the United Dairy Industry of Michigan, but as always, all opinions are my own. I personally love working for UDIM because Milk is a local food, produced by hardworking Michigan farm families. That means cheese, yogurt and other dairy foods are local too! Follow UDIM on Facebook, Pinterest, YouTube, Instagram, and Twitter to find out why Milk Means More.