Crock Pot Barbecue Chicken Tacos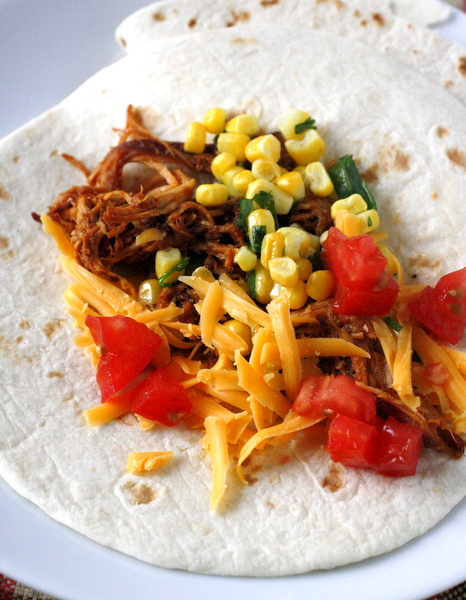 How good do these barbecue chicken tacos look?? We love tacos in our house and could easily eat them once a week. I love trying new and unique taco recipes, and this barbecue chicken version is definitely a new favorite. It's a crock pot recipe, which makes this meal extremely easy to throw together. The barbecue chicken is delicious, but the toppings really make these tacos stand out. The seasoned corn, cheddar cheese, and crispy fried onions are definitely an integral part, so don't skip them. These tacos have become a meal plan staple in our house and hopefully they will in your house as well. 🙂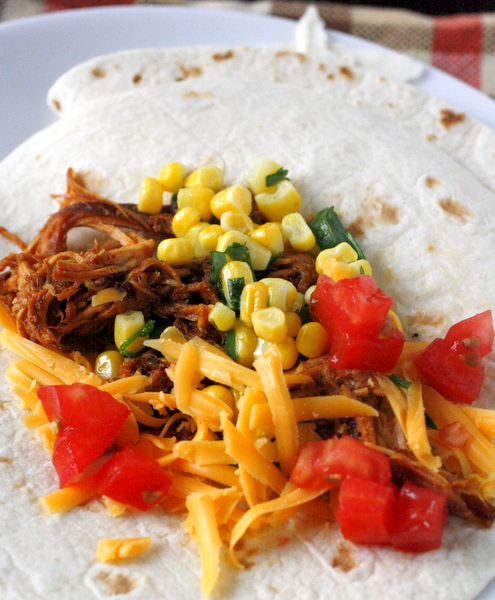 Crock Pot Barbecue Chicken Tacos
Yield: Serves 6
Prep Time: 15 minutes
Cook Time: 8 hours
Total Time: 8 hours 15 minutes
Ingredients:
2 pounds boneless skinless chicken
2 Tbsp Kickin Chicken Seasoning (or other chicken seasoning blend)
½ cup barbecue sauce + ½ cup barbecue sauce for later
16oz bag frozen corn, thawed
2 Tbsp lime juice
1 Tbsp olive oil
1 tsp dried basil
½ tsp dried cilantro
salt & pepper
1 small can crispy fried onions
Tortillas, for serving
extra taco toppings: sour cream, tomatoes, etc.
Directions:
Rub mixture evenly over chicken and add chicken to slow cooker. Top with ½ cup barbecue sauce. Cover and cook on high for 3-4 hours or low for 6-8 hours.
Remove chicken from slow cooker and shred using 2 forks. Add a ladle or two of the cooking juices and discard remaining. Toss with additional ½ cup BBQ sauce and return to slow cooker on keep warm setting until ready to serve.
Add thawed corn to large bowl. Add lime juice, olive oil, basil, and cilantro and toss until combined, adding salt and pepper to taste. Serve with tortillas and toppings.