Easy Beef Mostaccioli
This easy recipe for beef mostaccioli is sure to be a family favorite!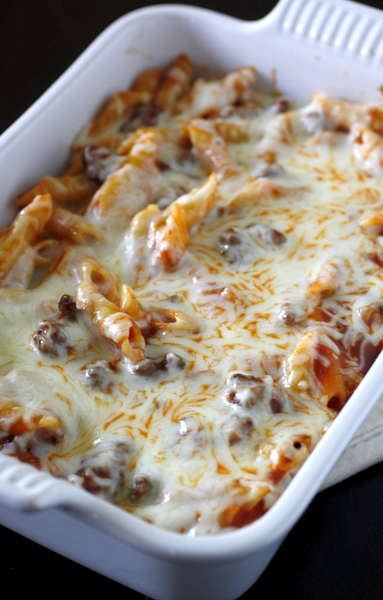 I'm always looking for new ways to serve pasta for dinner, and this easy beef mostaccioli is a new favorite.
One of my friends actually brought this dish to us after Levi was born. My parents were visiting that week and the whole family loved this meal.
Since it was such a hit with everybody, I knew I had to get the recipe and try it myself. This recipe is so quick and easy to make, and it's a natural kid favorite.
It has a slightly different taste than normal baked pasta recipes, which means it's just different enough to feel like you're eating something new.  I like the higher ratio of meat to pasta in this recipe as well – it makes me feel like my kids are actually eating meat and not just cheese covered pasta. 🙂
Also, this is apparently a great meal to take to a family who has just had a new baby! We loved it and I'm sure you will too. 🙂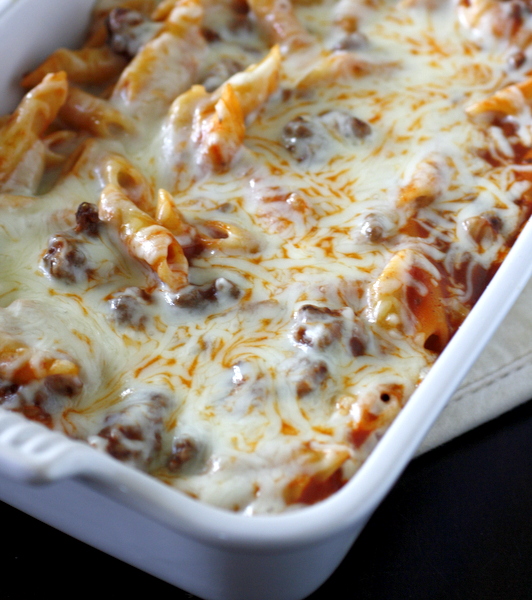 Easy Beef Mostaccioli
Yield: Serves 4
Prep Time: 20 minutes
Cook Time: 30 minutes
Total Time: 50 minutes
This easy recipe for beef mostaccioli is sure to be a family favorite!
Ingredients:
2 cups uncooked mostaccioli
1 pound ground beef
2 Tbsp chopped onion
1 can condensed tomato soup (10 3/4 oz), undiluted
1 can (8 oz) tomato sauce
1 tsp dried oregano
1/2 tsp salt
1/3 cup shredded mozzarella cheese
Directions:
Cook pasta according to package directions.
Meanwhile, in a large skillet, cook beef and onion over medium heat until meat is no longer pink. Drain.
Stir in the soup, tomato sauce, oregano, and salt.
Drain pasta; stir into the beef mixture.
Transfer to a greased 1 1/2 qt baking dish. Top with cheese and bake, uncovered, at 350 for 30-35 minutes, or until heated through.