Chocolate Croissant Cookies
Chocolate filled croissant-style cookies with drizzled chocolate on top!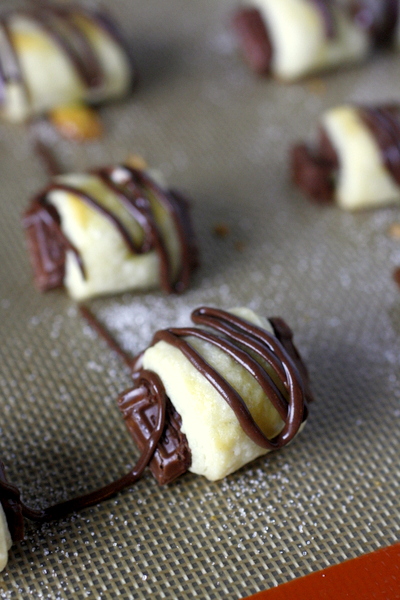 How good do these chocolate croissant cookies look?? I love any cookie with melty gooey chocolate in it, and these cookies certainly deliver.
The cookies consist of a buttery croissant-style dough wrapped around pieces of a Hershey's chocolate bar. And as if that wasn't enough, once they're baked, you drizzle even more chocolate on top. If you are a chocolate lover, this cookie is for you. 🙂
Surprisingly the cookies weren't even that hard to make. They're slightly time consuming, but I don't mind spending a little extra time on Christmas cookies, especially if they will look pretty on a cookie tray.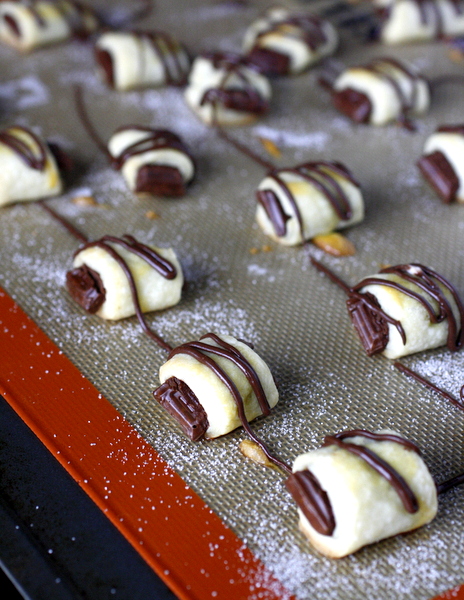 You need to chill the dough once you make it, which naturally breaks the process up into two manageable parts. The dough was easy to work with, and I ended up listening to Christmas music while I rolled the dough and made the cookies.
I wasn't overly careful rolling and cutting my dough, which means the cookies are all slightly different sizes, but I think that gives them a little extra character. 😉
I made these cookies extra small because I like bite sized cookies, but you could always cut the dough and chocolate into bigger pieces if you want larger cookies. No matter how you make them, these chocolate croissant cookies are sure to be a hit!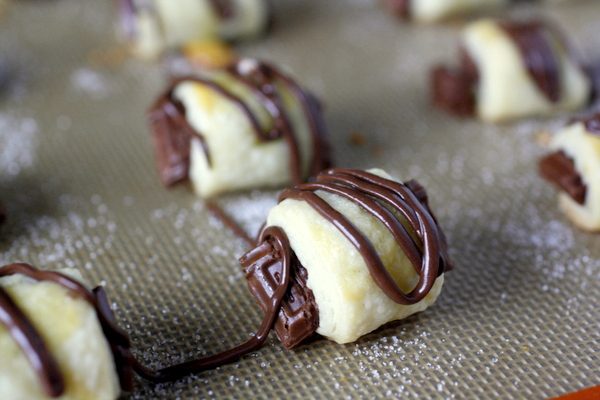 Chocolate Croissant Cookies
Yield: Makes ~50 mini cookies
Chocolate filled croissant-style cookies with drizzled chocolate on top!
Ingredients:
1 cup (5 ounces) all-purpose flour
⅛ teaspoon salt
8 tablespoons (1 stick) unsalted butter, softened
4 ounces cream cheese, softened
2 tablespoons granulated sugar
½ teaspoon vanilla extract
5 (1.55-ounce) Hershey's milk chocolate bars (the regular size)
1 large egg, lightly beaten
3 tablespoons granulated sugar
Directions:
Using an electric mixer with a paddle attachment, beat butter, cream cheese, and granulated sugar until light and fluffy, about 3 minutes.
Add vanilla and beat until combined.
In a small bowl combine the flour and salt. Add the flour mixture to the butter mixture in 2 additions, stopping to scrape down the sides of bowl. Mix just until incorporated.
Place dough on a piece of plastic wrap, shape into a disk about 6 inches in diameter, wrap fully, and refrigerate for 1 to 24 hours.
Place oven racks in upper-middle and lower-middle positions and heat oven to 350 degrees. Line 2 baking sheets with parchment paper.
Break 4 of the chocolate bars apart at the seams so you have a total of 48 pieces.
Roll dough on a lightly floured surface into a 20 by 8-inch rectangle. Cut dough into pieces just larger than the chocolate pieces. (You may need to re-roll the dough a few times).
Place a piece of chocolate crosswise across each piece of dough. Chocolate should overhang the edges some. Fold dough around chocolate and place on prepared baking sheets seam side down.
Brush tops with egg and sprinkle with sugar.
Bake for 18 to 20 minutes, until golden brown, switching and rotating baking sheets halfway through. Let cookies cool 5 minutes and then remove to wire racks to cool completely.
Break remaining chocolate bar into pieces, place in a microwave-safe bowl, and microwave on 50% power for about 1 minute. Stir and drizzle on cookies.