Frosted Zucchini Cookies
These frosted zucchini cookies are soft, chewy, cake-like cookies chock full of oats and zucchini and topped with a creamy vanilla frosting!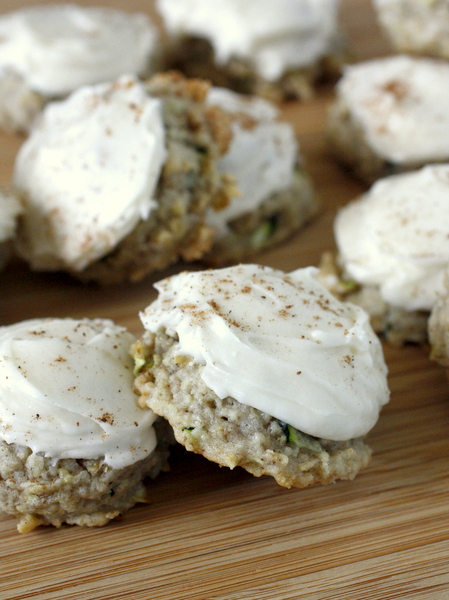 You are going to love these frosted zucchini cookies! This just might be my new favorite way to use up zucchini. And I have a lot of ways to use up zucchini. 🙂
When we got back from vacation a few weeks ago, my mom had some giant zucchini growing in her garden. I happily relieved her of a couple and promptly started baking all of my favorite zucchini recipes. (double chocolate zucchini bread, oatmeal chocolate chip zucchini cookies, and chocolate chip zucchini cake all made an appearance!)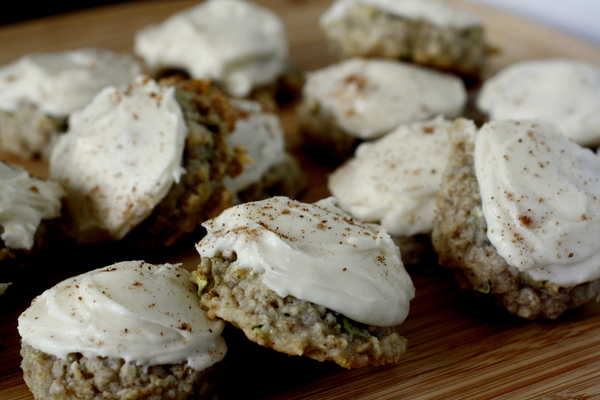 My mom made these cute little frosted zucchini cookies and I immediately asked for the recipe. That's how good they are! I made them myself within the next few days and everyone I've shared them with has LOVED them. They are soft and chewy from the oats, have a perfect spiced flavor, and the frosting on top is creamy and delicious. You are going to love these cookies!
They freeze beautifully, and I've even eaten a few straight out of the freezer – yum! I hope you try these if you have any extra zucchini around your house. I'm guessing they'll become a favorite for you too. 🙂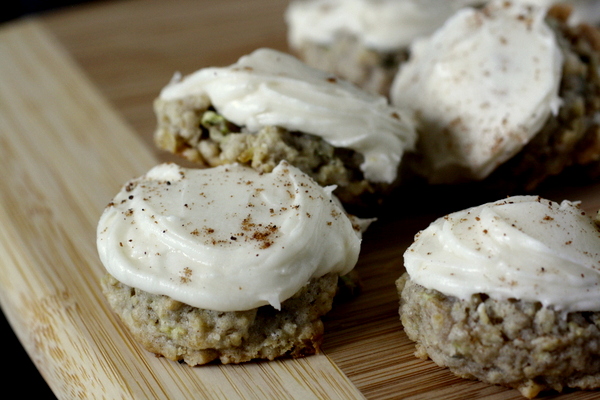 Yield: Makes 36 cookies
Frosted Zucchini Cookies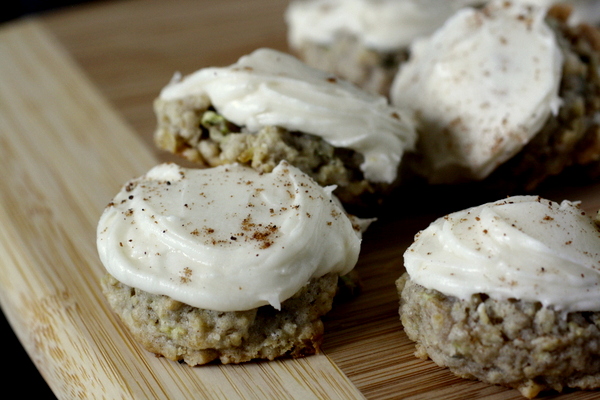 Soft, chewy, cake-like cookies chock full of oats and zucchini and topped with a creamy vanilla frosting!
Ingredients
1½ cups flour
1 cup sugar
½ teaspoon baking soda
½ teaspoon salt
¼ teaspoon nutmeg
¾ teaspoon cinnamon
¾ cup shortening
1 egg
1 cup grated zucchini
1¾ cups quick oats
½ cup butter, softened
3 Tablespoons milk
2 teaspoons vanilla
3-4 cups powdered sugar
Instructions
For the cookies:
Preheat oven to 400 degrees F.
Combine flour, sugar, baking soda, salt, nutmeg and cinnamon together in a large bowl and stir to combine.
Cut in shortening, then beat in egg until well combined.
Add zucchini and oats and beat until evenly mixed in.
Spoon drops of cookie dough (about a Tablespoon each) onto greased cookie sheet.
Bake at 400 degrees F for 8-10 minutes, or until bottoms are beginning to brown and cookies are set. Let cool before frosting.
For the frosting:
Cream butter in a medium bowl.
Add remaining ingredients and beat until smooth. Add more milk and/or powdered sugar until desired consistency is reached.
Frost cooled cookies and sprinkle the tops with a little nutmeg, if desired.
from Chef in Training