Double Chocolate Zucchini Bread
Is the zucchini in your garden starting to overwhelm you? Well, after you try this double chocolate zucchini bread, you'll be glad of your extra stash of zucchini!
I made this recipe a few days ago and I couldn't believe how good it was. It's similar in the taste to the double chocolate banana bread I posted last year, but reworked for zucchini. The bread is full of intense chocolate flavor, and the melty chocolate chips in the middle take this bread over the top.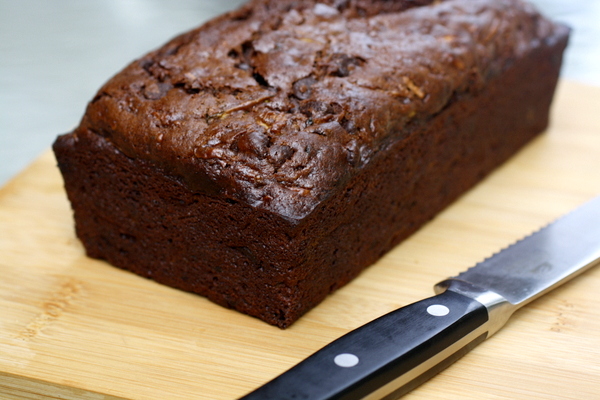 The texture is slightly dense and very moist, and you can't actually taste the zucchini at all.  It doesn't take long to make, and your house will smell amazing while it's baking! I've shared this recipe with lots of people, and each time they can't believe how good it is. This is by far one of my favorite ways to eat zucchini. 🙂
You can bet I'll be making this bread again – in my mind you can't go wrong with double chocolate anything!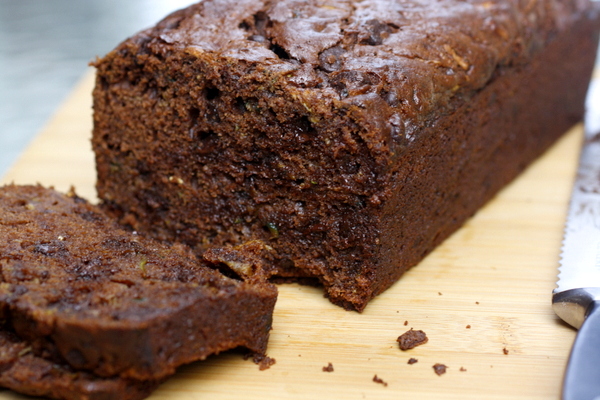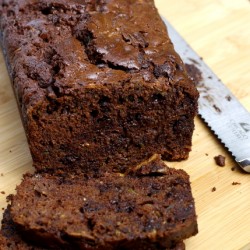 Double Chocolate Zucchini Bread
Ingredients:
2 large eggs
1/3 cup honey
1/2 cup vegetable oil
1/2 cup brown sugar
1 teaspoon vanilla extract
1 teaspoon salt
1/2 teaspoon baking soda
1/2 teaspoon baking powder
1/3 cup cocoa powder
1 2/3 cups all-purpose flour
2 cups shredded, unpeeled zucchini, gently pressed
1 cup chocolate chips
Directions:
Preheat the oven to 350°F; lightly grease an 8 1/2" x 4 1/2" loaf pan.
In a large mixing bowl, beat together the eggs, honey, oil, sugar, and vanilla. Add the salt, baking soda, baking powder, cocoa, and flour, mixing until well combined. Stir in the zucchini and chocolate chips.
Pour the batter into the prepared pan and bake for 65 to 75 minutes, or until a toothpick inserted into the center comes out clean. Let cool for 10 to 15 minutes before turning it out of the pan onto a rack.
Cool completely before slicing.