Chocolate Chip Zucchini Cake
I have got a treat for you today! This chocolate chip zucchini cake is the perfect way to use up any extra zucchini you have laying around.
I tore this recipe out of a Penzey's magazine forever ago and almost forgot about it. But last week when I neglected to check our garden for a few days, leading to the discovery of a couple very large (huge!) zucchini, I suddenly remembered this cake.
I've combined chocolate and zucchini together before with great results, and so had very high hopes for this recipe. And it did not disappoint! This chocolate chip zucchini cake is completely delicious.
It is moist and chocolatey and has lots of melty chocolate chips throughout the whole thing. And of course you can't taste the zucchini at all, which is just fine by me. 🙂 We loved this cake and I'm pretty sure you will too. Enjoy!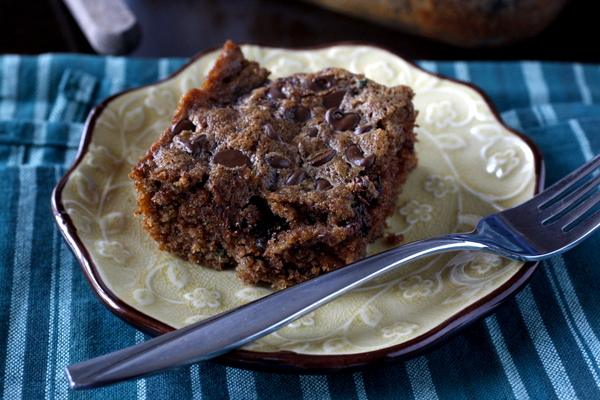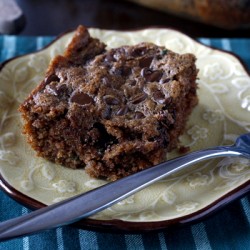 Chocolate Chip Zucchini Cake
Ingredients:
2 1/2 cups all-purpose flour
2 Tbsp unsweetened cocoa powder
1 tsp baking soda
1/2 tsp baking powder
1/2 tsp cinnamon
1/4 tsp ground cloves
1/2 tsp salt
1/2 cup unsalted butter (1 stick), softened
1 3/4 cups sugar
1/2 cup vegetable oil
2 eggs
1 tsp vanilla
1/2 cup buttermilk
2 cups peeled, shredded zucchini (1 medium)
2 cups semi-sweet chocolate chips
Directions:
Preheat oven to 350°.
In a medium-sized bowl, whisk together the flour, cocoa powder, baking soda, baking powder, cinnamon, cloves, and salt.
In a large mixing bowl cream together the butter and sugar. Beat in the oil, eggs and vanilla. Add the flour mixture to the creamed mixture alternately with the buttermilk. Stir in the zucchini.
Pour into a greased 9x13-inch pan. Sprinkle with the chocolate chips.
Bake at 350° for 45-50 minutes or until a toothpick inserted in the center comes out clean. Cool on a wire rack.