Pear Bread
This bread is so good. Seriously – I would really recommend trying it if you tend to like quick breads. I'd never heard of pear bread before, but I found this recipe on another blog and the reviews were great so I thought I'd give it shot. Plus pears were on sale last week. I'm so glad I made this – I love it!
It was easy to make…at least it should have been easy to make. A tip for making this recipe: first cream the butter and sugar and vanilla, then add the pears and eggs. Let's just say I learned the hard way why recipes always tell you to cream the butter and sugar first, before adding the more liquid ingredients. During my first attempt I was forced to throw out a liquidy mess with huge chunks of butter that was not even coming close to mixing together. There was much frustration when I realized that meant I had to peel and grate another pear. But the end result was more than worth it. I think this is my new favorite bread. It's that good.
Warm and wonderful – I can never seem to let the bread cool before cutting and tasting it…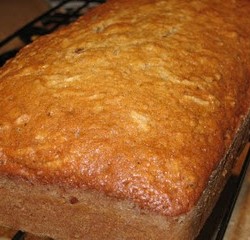 Pear Bread
Ingredients:
3 cups all-purpose flour
1 teaspoon baking soda
1/4 teaspoon baking powder
1 teaspoon salt
1 tablespoon ground cinnamon
1 cup chopped pecans
3/4 cup butter, softened (may substitute 3/4 cup vegetable oil)
3 eggs, lightly beaten
2 cups granulated sugar
2 cups peeled and finely grated ripe, firm pears
2 teaspoons vanilla extract
Directions:
Preheat oven to 350°. Lightly grease and flour a 10-inch tube pan or two 9″x 5″loaf pans.
Combine flour, baking soda, baking powder, salt, and cinnamon. Scoop out about 1/4 cup of this mixture and combine it with nuts to coat. Stir back into the flour mixture.
In a separate bowl, combine butter, eggs, sugar, pears, and vanilla. Add the pear mixture to the flour mixture, stirring just until flour disappears and batter is evenly moistened.
Pour batter into prepared pan(s). Bake for 60-70 minutes, or until bread is browned and firm on top. A pick inserted into the center should come out clean.
Cool in pan on a wire rack for 10 minutes. Then, remove from pan and place top side up on a plate or wire rack to cool completely.