Strawberry Blackberry Trifle
The only contribution I made to Easter dinner this year was dessert. Although, actually, that's more of a contribution than I usually make. My mom was planning on making some sort of cheesecake trifle, but I convinced her that the Strawberry Raspberry trifle I made last summer would be a better choice. This recipe is easy, fairly healthy, and makes a lot. And everyone seemed to really like it. We used a store-bought angel food cake, sugar-free pudding, cool whip, strawberries, and blackberries instead of raspberries. Thanks to my mom, who seemed very set on the cheesecake trifle she didn't get to make, I think we used cheesecake flavored pudding and we combined some of the pudding with the cheesecake filling from the other recipe. Last time I made this trifle, I used the white chocolate pudding the recipe calls for, and I think I like that better. Although I think you could add any number of things into this recipe and it would still taste good.
Mike was eagerly anticipating dessert from the moment I made it Easter morning until after dinner when he finally got to try it. He really liked it and rated it a 3.75. My cousin Jon apparently liked it more, and rated it a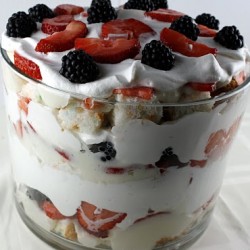 Strawberry Blackberry Trifle
Ingredients:
3 cups cold fat-free milk
2 small packages instant white chocolate pudding mix
1 prepared angel food cake (14 ounces), cut into 1-inch cubes
3 cups sliced fresh strawberries
3 cups fresh raspberries
1 carton (8 ounces) frozen whipped topping, thawed *(I used more like 1 1/2 cartons)
3 whole strawberries, quartered
Directions:
In a large bowl, whisk milk and pudding mix for 2 minutes. Let stand for 2 minutes or until soft-set. Place a third of the cake cubes in a trifle bowl or 3-1/2-qt. glass serving bowl. Top with a third of the pudding, 1 cup sliced strawberries, 1-1/2 cups raspberries and a third of the whipped topping. Layer with a third of the cake and pudding, 1 cup strawberries and a third of the whipped topping. Top with remaining cake, pudding, strawberries, raspberries and whipped topping. Garnish with quartered strawberries. Serve immediately or cover and chill until serving.