Mexican Lasagna
Last week, Mike's sister, cousin and her kids came over for a cooking adventure. We picked a great Rachael Ray recipe to experiment with – Mexican Lasagna. It was definitely a 30 minute meal – easy to put together, and it tasted great. We didn't need 3 people to cook this meal, so we took turns stirring the meat, holding the baby, and watching the Lion King with the kids. Mike came home halfway through the cooking process and helped out by entertaining the kids while we finished up. He even cleaned everything up after dinner while we sat and talked – what a guy 🙂
 Mike rated this a 4.25 – a very high rating from him. I love it when he rates the easy recipes that well – I will have no problem making this again. We had plenty of leftovers, and it was great heated up the next day for lunch too.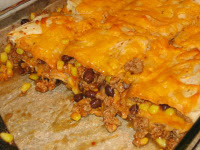 Mexican Lasagna
Ingredients:
tablespoons extra-virgin olive oil
2 pounds ground chicken breast
2 tablespoons chili powder
2 teaspoons ground cumin
1/2 red onion, chopped
1 (15-ounce) can black beans, drained
1 cup medium heat taco sauce or 1 (14-oz) can stewed or fire roasted tomatoes
1 cup frozen corn kernels
Salt
8 (8 inch) flour tortillas
2 1/2 cups shredded Cheddar or shredded pepper jack
2 scallions, finely chopped
Directions:
Preheat the oven to 425 degrees F. Preheat a large skillet over medium high heat. Add 2 tablespoons extra-virgin olive oil - twice around the pan. Add chicken and season with chili powder, cumin, and red onion. Brown the meat, 5 minutes. Add taco sauce or stewed or fire roasted tomatoes. Add black beans and corn. Heat the mixture through, 2 to 3 minutes then season with salt, to your taste. Coat a shallow baking dish with remaining extra-virgin olive oil, about 1 tablespoon oil. Cut the tortillas in half or quarters to make them easy to layer with. Build lasagna in layers of meat and beans, then tortillas, then cheese. Repeat: meat, tortilla, cheese again. Bake lasagna 12 to 15 minutes until cheese is brown and bubbly. Top with the scallions and serve.