Apple Tart
This is a great quick and easy dessert. It looks impressive and it takes almost no time to prepare. My uncle was visiting for the weekend, and mike's parents stopped over on saturday night to say hi and hang out for a little bit. As they came in, I quickly put this together, and we were enjoying dessert about 30 minutes later.
The secret is the frozen sheets of puff pastry dough from the freezer section of the grocery store. It's really amazing how it bakes up into a puffy golden pastry. To make this apple tart, I followed the instructions from
The Pioneer Woman
, with great success. First, I thawed the puff pastry dough for about 20 minutes and gently unfolded it into one big sheet. Then I cut it in half to make 2 apple tarts. I cut up about 3 apples, mixed them with a bunch of brown sugar, a little bit of lemon juice, and little bit of salt. Then I just layered the apples on the puffed pastry dough, and baked! So simple. When they came out of the oven i sprinkled them with powdered sugar, cut them into pieces, and served them with caramel sauce and ice cream. (unfortunately the vanilla ice cream was quite freezer burned, so we had to fall back on mint cookie crunch – still good!)
If you ever need a quick, easy dessert for company, I'd definitely recommend this. Everyone seemed to really like it, and Mike rated it a 4. And by the end of the evening, it was completely gone 🙂
(*for beautiful pictures and step by step instructions, check out the post from
The Pioneer Woman
)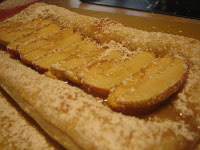 Apple Tart
Ingredients:
1 sheet puffed pastry, cut in half (thaw for 20 minutes before carefully unfolding)
3 apples, cored, halved, and thinly sliced (but not peeled)
1/2 - 3/4 cup brown sugar
juice of half a lemon
1/4 teaspoon salt
Directions:
Preheat oven to 415 degrees. Place puffed pastry rectangles onto a baking pan that's been sprayed with nonstick spray.
Add lemon juice, sugar and salt to apples. Stir to combine. Allow to sit for a few minutes then arrange apple slices on the pastry rectangles in a straight line, overlapping as you go.
Bake for 18 to 20 minutes, or until pastry is puffed and golden brown. Remove from pan immediately and place on a serving platter. Serve plain, with caramel topping, whipped cream, or a sprinkling of powdered sugar.