Apple Crisp

It just doesn't feel like fall until I make my favorite apple crisp recipe. I originally received the recipe from Apples of Gold (a Bible study group I was involved in), and I've made it every year since.  It's a classic apple crisp recipe – sweet cinnamon apples topped with a crumbly streusel topping and baked until bubbling and delicious. This really is the best apple crisp I've ever had.

I made this for Mike's parents when they were over for dinner the other night, and it disappeared pretty quickly. In my opinion, when cooking for your in-laws it's best to go with recipes you know will turn out right every time. This actually turned out to be a good make-ahead dish for company. I put it together right after work and let it just sit on the counter while we ate dinner. After dinner, I stuck it in the oven to bake for about 45 minutes, and it came out warm and fragrant just as we were ready for dessert. Perfect! Paired with some vanilla ice cream, you just can't beat this apple crisp if you're looking for a quintessential fall dessert!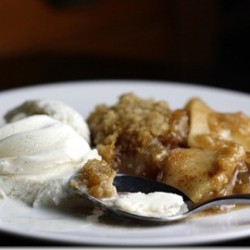 Apple Crisp
Ingredients:
5 or 6 apples, cored and sliced
1/2 cup white sugar
2 tsp cinnamon
1 cup flour
3/4 cup brown sugar
1/2 cup butter, softened
Directions:
Mix apple slices with white sugar and cinnamon. Put in bottom of a greased 8x8 pan. Combine flour, brown sugar and butter with a fork until crumbly. Put on top of apple mixture and bake at 350 for 45 minutes or until golden brown.