Ciabatta Bread
I think this might be my new favorite bread recipe. Mike agreed and rated it a 4.25. It's so light, with plenty of air pockets, and has an amazing crust. And it really does taste like ciabatta bread! I love it. Unfortunately, it's also slightly time consuming.
The first step involves creating an overnight starter. You combine flour, water, and a tiny bit of yeast and let it sit overnight. I didn't plan ahead enough for that, unfortunately, so I just made the starter before church on Sunday morning and let it sit for 6 hours or so, and that seemed to work fine. Then you combine the starter with the rest of the ingredients and let the mixer mix it for about 7 minutes. Nice and convenient – I used those 7 minutes to clean up the mess I'd already managed to make 🙂
 After that, it just invoves rising and baking, and out come two wonderful-smelling, semi-flat, amazing tasting loaves of bread. These are seriously good, even good enough that I plan on making it again soon, despite the long rising times. Like I said, Mike loved it and we ended up pretty much just eating bread for dinner. 🙂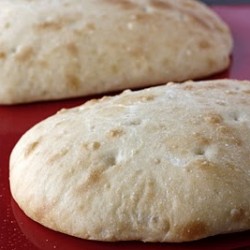 Ciabatta Bread
Ingredients:
Overnight Starter:
1 1/2 cups Unbleached All-Purpose Flour
1 cup cool water
1/16 teaspoon instant yeast
Dough:
all of the starter (from above)
1 teaspoon instant yeast
1 1/2 cups King Arthur Unbleached All-Purpose Flour
1 1/4 teaspoons salt
1 teaspoon sugar
1 tablespoon Baker's Special Dry Milk or nonfat dry milk
1/4 cup lukewarm water
2 tablespoons olive oil
Directions:
To make the starter: Mix the starter ingredients in a small bowl until well combined. Cover the starter and let it rest at room temperature overnight, or for up to 15 hours. It will become bubbly.
Place all of the dough ingredients, including the starter, into the bowl of your mixer, and beat at medium speed, using the flat beater, for 7 minutes. The dough will be very smooth, soft, shiny, and elastic. Transfer the dough to a greased bowl or other rising container, cover it, and let it rise for 2 hours, deflating it midway through.
Lightly grease your work surface, and a half-sheet baking pan (18" x 13") or similar large baking sheet. Grease your hands, as well. Very gently turn the dough out of the bowl onto your work surface; you don't want to deflate it. It'll lose a bit of volume, but don't actively punch it down. Using a bowl scraper, bench knife, or your fingers, divide the dough in half. You should have two fat logs, each about 10" long x 4" wide. Handling the dough gently, transfer each piece to the baking sheet, laying them down crosswise on the sheet. Position them about 2 1/2" from the edge of the pan, leaving about 4" between them. Lightly cover the dough with heavily oiled plastic wrap or a proof cover, and allow it to rise for 60 to 90 minutes.
Midway through, gently but firmly dimple the dough with your fingers, making fairly deep pockets. Towards the end of the rising time, preheat the oven to 425°F. Spritz the risen loaves with lukewarm water. You'll see that the dimples have filled in somewhat, but haven't entirely disappeared.
Bake the loaves till they're golden brown, about 18 to 20 minutes. Remove them from the oven, and cool on a rack.