Pull Apart Butter Rolls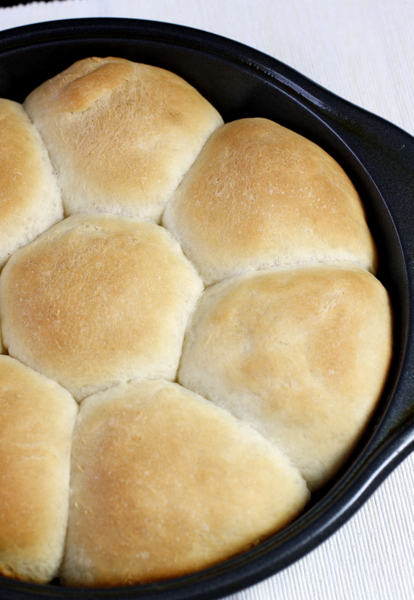 If you're looking for a classic dinner roll recipe, this recipe is for you! These rolls are buttery, soft, fluffy, and absolutely delicious when eaten warm from the oven. I love any sort of homemade bread, and these buns are no exception. They are perfect to serve with Sunday dinner, or with a bowl of homemade beef stew. They're not hard to make, and I'm guessing you could freeze the unbaked rolls to bake in the future. If they look a little flat in my pictures, it's because I used a 9" pan instead of an 8", but either way they bake up nice and fluffy. Give these a try and let me know if they live up to your idea of a classic dinner roll!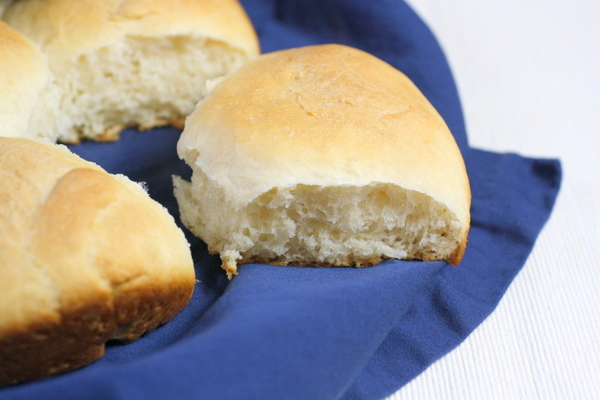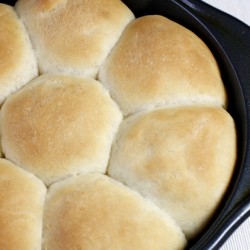 Pull Apart Butter Rolls
Ingredients:
3 1/2 cups All-Purpose Flour
2 teaspoons instant yeast
1/4 cup instant potato flakes
3 tablespoons nonfat dry milk
2 tablespoons sugar
1 1/2 teaspoons salt
4 tablespoons soft butter
2/3 cup lukewarm water
1/2 cup lukewarm milk
Topping
2 tablespoons melted butter
Directions:
Mix together all of the ingredients (except the butter for the topping) in a large bowl and knead, using your hands, a stand mixer, or a bread machine set on the dough cycle — to make a soft, smooth dough. Place the dough in a lightly greased bowl, cover and let rise for 60 to 90 minutes, until almost doubled in size.
Gently deflate the dough, and transfer to a lightly greased work surface. Divide the dough into 16 equal pieces and form each piece into a smooth, round ball. Lightly grease two 8" round cake pans and place 8 buns in each pan. You can use a 9" round pan as well, but your buns will be a little flatter and their sides will bake a little more like mine did.
Cover the pans and let the buns rise until they're crowded against one another and puffy, about 60 to 90 minutes. Towards the end of the rising time, preheat the oven to 350°F. Uncover the buns and bake them for 22 to 24 minutes, until they're golden brown on top and the edges of the center bun spring back lightly when you touch it. Remove from the oven and brush with the melted butter. Let cool in the pan for a few minutes, then remove to a cooling rack. Serve warm.