Broccoli Cheese Soup
I decided it was about time I actually cooked something for the blog, rather than the baking I tend to do a lot of. This couldn't quite be classified as healthy (although I don't think it's too terribly bad for you…), but at least it's an actual meal, as opposed to the cakes, cookies, and bread I've made recently. And it's delicious. Broccoli cheese soup has intimidated me for awhile. I've always thought it either had to be difficult to make, or contain lots of cream and/or processed cheese cubes. This recipe (from MyKitchenCafe) contains neither, and was quite simple to make.
You make melt the butter and mix it with flour, add in a few other simple ingredients – chicken stock, onions, milk, cheese, broccoli, and you're done! So easy and so good. I served it with leftover Herbs de Provence bread, and it was a perfect fall meal. Warm and full of cheese and not too thick. Mike took one bite and said "Mmmm…is there any more?" 🙂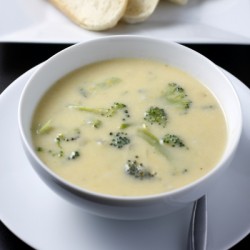 Broccoli Cheese Soup
Ingredients:
1 can (14 oz) chicken broth
1 small onion, diced
1/3 c. flour
1/4 c. butter
Pepper to taste (*1/2 tsp?)
2 c. milk
1 1/2 c. shredded sharp or extra sharp cheddar cheese
1/2 c. shredded swiss cheese
2 cups steamed chopped broccoli
Directions:
Simmer chicken broth and chopped onion for 15-20 minutes in a covered small saucepan, until onions are soft. Heat milk in microwave for 1-2 minutes. In a separate medium-sized stockpot, melt butter then add flour and pepper. Cook together for a couple of minutes, then whisk in warmed milk. Stir and heat together on medium-high heat until soup starts to thicken. Next add chicken broth and continue to stir until well blended. Add cheeses and steamed broccoli. Serve immediately.