Creamy Chicken and Wild Rice Soup
I had a fun giveaway post planned for today, but when I looked back at my blog and realized I hadn't shared this soup with you yet, I knew this needed to take precedence. (Don't worry – giveaway will be Monday!) If there was ever a soup that would be perfect for turkey leftovers, this is it. It is so good. So good. (sorry…felt that needed more emphasis). Mike declared it the best soup I've ever made, we ate it for days straight, and I already want to make more. I made it with chicken, but I'm convinced it would be just as good, if not better, with turkey. As an added bonus, it has such a unique flavor that you don't feel like you're eating leftovers!
This soup is the epitome of comfort food. It's warm, creamy, full of chicken and vegetables, and the unique flavor had me saying "yummm" with a big smile on my face after taking one bite. I found the recipe on Melanie's site, and modified the ingredients slightly to suit our tastes. You can adjust the creaminess of the soup by how much broth you add and how long you let it cook. You can also play around with the vegetables according to your preferences (although I'd say the mushrooms are pretty much essential). Don't be nervous about the combination of mustard powder and curry powder (as I was). Just dump it in and prepare for the amazing flavor it produces. Please try this soup. Whether with leftover turkey or with chicken, this is sure to be one of your favorite soups.
P.S. If you like this recipe, you might also want to check out this flavorful, easy to make Pastina Soup or this satisfying and familiar Chicken Noodle Soup!  And don't forget the bread!  I'd recommend these French Bread Rolls (as pictured above) or you could even go with these soft pretzel rolls as I firmly believe that soft pretzels can (should?) be eaten with anything. 🙂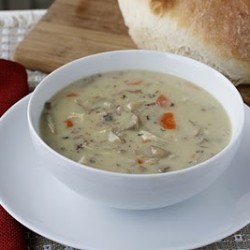 Creamy Chicken and Wild Rice Soup
Ingredients:
½ cup butter
1 medium yellow onion, finely chopped
½ cup chopped celery
1 cup carrots, sliced
½ pound fresh mushrooms, sliced
¾ cup all-purpose flour
6 cups chicken broth
2 cups cooked wild rice
2 cups cooked, cubed chicken
1 teaspoon salt
1 teaspoon curry powder
1 teaspoon mustard powder
1 teaspoon dried parsley
½ teaspoon black pepper
2 cups whole milk
Directions:
Melt the butter in a large pot over medium heat. Stir in the onion, celery and carrots and sauté for 5-7 minutes, until vegetables are tender. Add the mushrooms and sauté 3-4 more minutes. Then add flour and stir well. Over medium heat, gradually pour in the chicken broth, stirring constantly. Bring the soup just to a boil and then reduce heat to low and let simmer, while stirring, for 5-6 minutes, until it has thickened slightly.
Next, add the chicken, rice, salt, curry powder, mustard powder, parsley and ground black pepper. Allow all the ingredients to heat through and then pour in the milk. Let the soup gently simmer (not boil) for 30 minutes to 1 hour, stirring occasionally to prevent sticking. It will thicken slowly as it cooks. If it gets too thick, add some extra chicken broth before serving.
*Note: If you start with raw chicken just saute the chicken with the vegetables in the first step until cooked through.
If you like what you see, you may want to sign up to get free email updates or subscribe via rss. 🙂